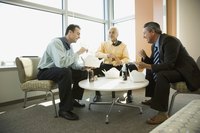 To raise investment capital for a business venture, you must develop credible financial projections and identify likely investors. The process often starts with writing a detailed business plan for a new business or compiling and explaining financial data for an existing company. The final phase involves coming up with the right offer.
Develop Your Numbers
To maximize your chances of finding investors, list your business' past income, expenses, cash flow, sales volumes, profit margins, gross profits and taxes. If you are pitching a new business, create a first-year budget that includes pre-launch startup costs and monthly operating expenses. Project a revenue timeline for reaching break-even, turning monthly profits, paying back the initial investment and giving profits to an investor. If you don't have a business plan, increase your chances of impressing investors by developing one, complete with a description of your product or service, marketplace analysis, marketing plan, budget and the credentials of your key personnel. You should also be prepared to share your financial documents with potential investors, advises the U.S. Small Business Administration.
Determine What You Need
Once you have a financial plan in place, determine how much money you need to launch or expand your business, depending on your goal. Calculate alternative sources of capital you might secure to prevent having to give away a significant part of your business to an investor. Other sources of capital include credit cards, savings, second mortgages, ongoing profits, asset liquidations, retirement account funds, credit lines, bank loans and loans from family and friends. Calculate the final investment amount you will need only after you are certain what your other capital sources will be.
Decide What You'll Offer
When you know how much investment money you'll need, determine what it is worth to you. You might offer investors a specific dollar return on their investment based on a finite timeline. For example, you might offer a 20 percent return on the investment by the end of year one. Or, you might offer a percentage of gross sales or net profits for a specific time period or in perpetuity. If you aren't sure you can guarantee a specific return on an investment, consider offering equity in your company and/or a partnership. A silent partnership offers part ownership to an investor with no say in the operations of the business. A full partner has a say in all or part of the operations and can lend his expertise to the business.
Identify Potential Investors
Write a list of the people or organizations you think are most likely to be interested in your investment opportunity. Look at current business partners or other businesses that operate in your space but don't compete against you directly. You can even approach suppliers about investing in your business -- particularly if one of your suppliers has a vested interest in your staying in business because you buy so much product from her. You might also look for local angel investment groups. These organizations hold regular meetings and allow entrepreneurs to make investment pitches to group members.
Make Your Pitch
Put together a written proposal, tailored to each potential investor. Explain your business model and why you believe there is a need for it in the marketplace. Present your revenue and profit projections, backed by historical data if you are an existing business. If you are starting a new business, use marketplace numbers developed from trade associations and other credible sources. Tell investors what you will do with their money and how it will lead to a successful business and, ultimately, profits for them. Make your offer, telling investors exactly how much they need to give you, what they will get in return and any timelines attached.