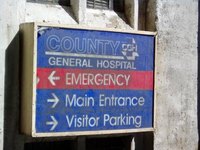 Getting admitted to a hospital involves a serious medical condition or specific diagnosis that warrants immediate and overnight care. In a non-emergency situation, bringing complete personal information and an advocate to speak on behalf of the patient can result in a faster admission. In an emergency situation, the attending physicians will make a decision on admission during the triage stage when a patient arrives for initial evaluation.
Things You'll Need
Personal identification
Doctor's signed referral
Insurance card
Contact information for immediate family
Expect a doctor to make the decision on admittance if you go to the hospital emergency room.
Get a referral from a personal physician and approval from the insurance company to increase the likelihood of a swift admission to the hospital. Take these documents to the hospital.
Bring to the hospital your identification, insurance card, Social Security number, home address, telephone numbers and contact information for a relative or friend. In a non-emergency, bringing all personal information should speed up the admissions process.
Consider getting a second opinion from another doctor if an initial visit for a medical complaint fails to result in a hospital admission. A second opinion will be less expensive than a trip to the local emergency room.
Know that a complaint of chest pains often leads to hospital admission, monitoring and observation. Hospital admissions for chest pain and angina climbed 110 percent since 2000, according to Bio-Medicine.com, a website that tracks medical statistics. Complaining of chest pains may result in admission, but after running a series of diagnostic tests, the physicians may send a patient home if the results show nothing or are inconclusive. Such an effort could result in nothing more than a large medical bill.