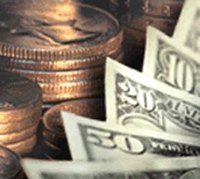 Petty cash is money used for small ad hoc expenditures. Petty cash is handy, and it can be a deductible business expenses. It's important to keep track of it, though, because a penny here and a nickel there adds up. Plus, you need to find out if someone inappropriately has their hand in the cookie jar.
Note the starting balance. This can something as simple as a slip of paper in the lock box with the petty cash or the beginning balance on a bank statement. It's essential to have the balance as of the last reconciliation to compare recent expenses.
Count the cash in the lock box, which might include loose change. If it is equal to the starting balance, your work is done and there's no reconciliation necessary.
Total the receipts. Each time someone uses petty cash for a business expense, it's essential that they get a receipt and put it in the lock box.
Add uncashed checks and IOUs to the receipt total. Some employees might be authorized to tap petty cash for personal expenses, provided they pay it back. In such cases, the employee should put an IOU slip (instead of a receipt) in the lock box when he takes cash and then replace it either with the same amount of cash or a check.
Add the amount of cash in the lock box to the receipt total and the total amount of uncashed checks and IOUs. This should equal the starting balance in step 1.
Report any shortfall. If the sum of steps 2, 3, and 4 does not equal the starting balance, someone has taken petty cash without putting in their IOU or failed to put a business-expense receipt in the lock box. Use the appropriate means in your office for reporting a petty-cash shortfall.