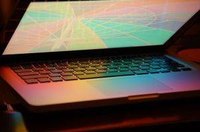 With the high overhead costs of traditional brick-and-mortar stores, more and more retailers are running their business online. Essentially, running an e-commerce website is almost the same as to running a brick-and-mortar store. You need to have a storefront (your website), you need inventory, and you need customers. If you want to open up your own e-commerce business but have no idea how to, this tutorial details the process.
Things You'll Need
Figure out your niche. Most successful e-commerce websites have carved out their own niches in their markets. Choose a niche that you think will be profitable. Unless you are creating the product yourself, you won't need to stock inventory. However, some knowledge of the products will come in handy when customer-service emails start rolling into your inbox.

Choose inventory. For example, if your niche is modern home decor, your inventory will include modern paintings, rugs, vases, mirrors and throw pillows. If you don't have a large startup budget, check an affordable wholesale trading website such as Alibaba (see the Resources section). Alibaba allows distributors, manufacturers and buyers to make wholesale transactions over the Internet.

Register your domain name. According to the Agricultural Marketing Research Center, you get a domain name through one of the authorized domain name registrars. All registrars can sell you the name you want, but they may charge different rates. Popular and reputable domain name registrars are GoDaddy and Host Gator; both charge between $10 and $15 to register a domain name. Ideally, your domain name will be the name of your business. But sometimes your business name isn't available because another online business has registered the name. In that case, for a simple fix you can add another word to the domain name. For example, if your business name is Shana Pottery and the domain name "ShanaPottery.com" is already taken, you can opt for "ShanaPotteryOnline.com" or "ShanaPotteryShop.com."

Create your website. Before you go into business, you need a design for your e-commerce website. Unless you have a background in web designing, you will do best to hire a professional web designer. A designer will work closely with you to create a professional website that meets your aesthetic standards, and she will include all the site's functions, including your virtual shopping cart. You will need to supply your product photographs so the designer can put them online. Many professional designers also create product descriptions for an additional fee.
Market your online store. Now that your e-commerce store is open for business, you need to start attracting customers. The principle for online marketing is the same as for offline: Place your business in front of your customers every chance you get. Consider placing ads on relevant blogs, running ad campaigns through Google AdWords, issuing press releases and sending out cold emails. And hand out your business card to everyone you meet so they can go to your store and spread the word.