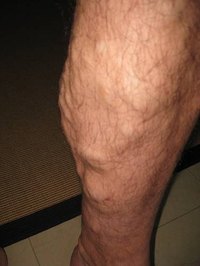 Varicose veins are commonly found in up to 50 percent of women in the United States and affect 45 percent of men. One out of two people age 50 and over suffer from varicose veins, according to the Department of Health and Human Services. Varicose veins are large raised veins that appear deep blue or purple in color. The elevated veins are commonly found on calves and legs. When blood is insufficiently pumped back into the heart, and a backflow occurs due to weakened valves, blood pools and collects in veins. Veins begin to enlarge and turn varicose.
Visit a doctor for an exam to determine the severity of the varicose. The physician may take X-rays as well as ultrasound pictures. Not all varicose veins are treated the same. Treatment is based on severity as well as the location of the vein, among other factors.
Injecting a solution into the vein is a common form of treatment know as sclerotherapy. The procedure takes place in an outpatient setting and does not require anesthesia. The injected medication causes the vein to collapse and seal shut. The vein turns into scar tissue and is not visible after two to three weeks. Occasionally repetitive treatment may be required. Most patients recover with 50 to 90 percent improvement.
Treating varicose veins with laser therapy is a common form of treatment. Preference is given to laser treatment as it is not invasive. Strong light is directed specifically at the varicose vein. The vein is hit with light approximately five times in each area. The entire treatment can take approximately 15 to 20 minutes. The stinging of the laser is similar to a rubber band hitting the skin or a very hard pinch, but laser therapy can be painful to those with sensitive skin.
Removing deeper varicose veins involves endogenous techniques. The doctor will place a small catheter, or tube, into the vein. The catheter then signals a laser or radiofrequency to shrink the vein. Veins around the treated vein will resume healthy blood flow.
Resorting to surgery is common for very deep veins. Both surgical ligation and phlebotomy remove the damaged vein from the body. Though serious side effects are uncommon, patients are under local or general anesthesia. Surgeries are commonly performed on an outpatient basis.