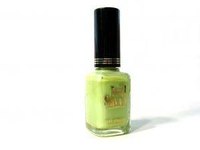 If you don't have time to go to the store or you can't find the perfect shade of nail polish to go with your new dress, making your own nail polish is the perfect solution. You can customize your nail polish to become any color that you own in an eyeshadow. Because there are often a large variety of eyeshadows available at your local drugstore or makeup counter, but maybe not so many rare nail polish colors, like fluorescent green, simply pick the eyeshadow shade you'd like to make a nail polish with, and, using a few items around the house, you can make your own fluorescent green nail polish that is rare and ready-to-wear.
Things You'll Need
Fluorescent green eyeshadow
Ziploc bag
Purchase the fluorescent green eyeshadow shade of your choice. You can purchase fluorescent green eyeshadow at almost any drugstore or makeup counter, but you can also purchase a great shade at Hot Topic, called Bloody Mary's Neon Green eyeshadow.
Empty the eyeshadow into a Ziploc bag. Seal the Ziploc bag, and, using your palms and fingertips, crush the eyeshadow into a fine powder.
Open a bottle of white nail polish, and place a funnel on top of the opening to the nail polish.
Empty a small amount of the eyeshadow into the funnel, and tap gently until it slides into the bottle of white nail polish.
Shake the bottle thoroughly. If you have not achieved the color you desired, empty more eyeshadow into the funnel and tap gently. Shake again. Continue the process until you have achieved the color you desire.