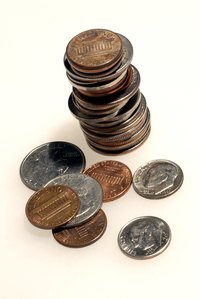 The Coinage Act of 1792 instituted the dollar as the United States standard monetary unit. Throughout history, the U.S. has issued coins containing various compositions and combinations of copper, nickel, manganese and silver. In response to an increasing silver shortage, the Coinage Act of 1965 changed the composition of some coins. The most accurate way to tell if your coin contains silver is to check its age. Armed with this information, you'll be able to assess its composition.
Check the date of a quarter or a dime to determine if it contains silver. The Coinage Act of 1965 changed the silver content in quarters and dimes. Up to this point, quarters and dimes were 90 percent silver, but this act removed the silver completely.
Find the date of a half-dollar to figure out its silver content. The Coinage Act reduced the silver content of half dollars to 40 percent. After 1970, the U.S. government removed silver completely from half dollars with the exception of Bicentennial Kennedy half dollars, which contain 80 percent silver and 20 percent copper.
Note the date of a nickel to determine its composition. According to the CoinTrackers website, the only nickels containing silver minted by the United States occurred between the years 1942 and 1945. The U.S. used 35 percent silver in nickels during these years to save nickel for war needs. Nickels from this period also contained 57 percent copper.
Verify the date of a dollar coin. Morgan dollars minted between 1878 and 1921 contain 90 percent silver, as did Peace dollars made between 1921 and 1935. Ike dollars from the years between 1971 and 1976 contain 40 percent silver.