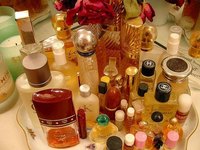 Even the most fragrant and expensive perfume will lose its potency over time, as light, heat and air mix and react with the perfume's ingredients. No perfume will last forever, but there are methods in storage and handling perfume that will prolong its life as much as possible. There also are ways to get some added vitality out of perfume that has lost some of its scent. Handled properly, most perfumes should last at least a year, and depending on their quality, some can last as many as 3 to 5 years.
Things You'll Need
Keep perfume stored at room temperature. Heat and cold might interfere with the chemicals within perfumes. Don't store perfume in the bathroom. The shower makes it a hot and humid climate.
Tightly close the caps on splash-style perfume bottles. Exposure to air causes the alcohol in the perfume to evaporate. Perfume in spray bottles tend to last longer for this reason.
Protect perfume from exposure to light, particularly sunlight, as much as possible. Keeping it inside the box, a drawer, a closet or a makeup bag limits exposure to light. Dark or opaque bottles will preserve perfume scents longer than clear bottles.
When using perfume, touch only the rim of the bottle, and do not touch stoppers or applicators that go inside the perfume bottle. Contamination from the skin will deteriorate a perfume's potency.
Dab the top of the bottle with alcohol and let it air dry if the perfume's scent has diminished. This might restore the scent. Do not get alcohol inside the perfume bottle.
Use perfume that is no longer wearable to freshen up potpourris or add a pleasant odor to shampoos or lotions. You also can use it to keep the inside of drawers smelling fresh by dabbing a little onto a cotton ball and storing the ball in the drawer.