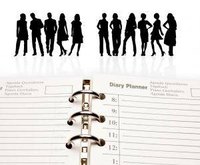 Planning schedules is important because it helps fulfill your responsibilities on time and keep track of your goals. Sometimes, planning a schedule can be a daunting task, especially for someone who isn't used to having one, but it is easy to plan schedules.
Things You'll Need
planner and calendar
list notebook
schedules of friends and family
highlighter
Examine the calendar format on the planner. Note if the calendar is divided into months, days or weeks. Format is important and you should work with a planner that suits you. If you're in a high-stress job, a day-to-day tracking may be helpful. For someone with a more flexible schedule, a weekly format may work better.
Make a list of the dates and times of appointments for the week. Fill your calendar with important commitments that have already been scheduled for the week. These may include work, school or other responsibilities.
Cross check your appointments with other schedules and confirm important meetings with people. Since your life is often intertwined with other people's lives, it is important to cross check your appointments with those of your family and friends. Important birthdays should be noted, as well as future plans together.
Prioritize your tasks by highlighting them on your calendar. It is not enough to jot down tasks per day. Highlighting them in color may help you visually organize the information and help avoid becoming overwhelmed by the dense text. For example, deadlines may be noted in red so they will stand out, while upcoming meetings may be highlighted with a fluorescent marker.
Tweak your schedule as you see fit and mark the appointments you have successfully completed. Completing a project may require some flexibility, and it's important to keep track of your progress. You can track your goals by making a monthly to-do list in your planner. Check tasks as they are completed, and this will motivate you to continue to organize your meetings and plan your schedule.