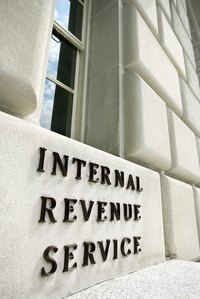 A variety of problem situations can arise between taxpayers and the Internal Revenue Service. Common problems include unfiled tax returns, audits and back tax liabilities. No matter what the specific situation, working within the IRS bureaucracy provides a framework for solving any IRS issue.
Notices
All IRS issues start with a notice from the agency. Do not toss aside such a letter when you receive it, as it contains important information for you. Every IRS notice will contain the full contact information of the person or department sending the notice. It will also contain a detailed explanation of why you are receiving the notice, the actions the IRS wants you to take and a deadline for responding. Many IRS notices will also contain a summary of your legal rights in the matter. Thoroughly read the entire notice, and either speak with a tax professional or call the IRS with any questions you have about the notice. Don't panic when you receive an IRS notice, as most of them are routine and are simply requests for clarification.
Deadlines
All IRS notices contain a deadline by which the agency expects you to respond. Meeting deadlines means you avoid escalation of the situation. Your failure to respond by the deadline may cause you to lose certain legal protections or appeal rights. If the IRS is proposing an additional tax assessment or changes to a tax return, failing to respond by the deadline allows the agency to assume you agree with the changes or assessment. Never let the IRS take such a step without a challenge.
Responses
Most IRS notices will explicitly state what the agency is requesting from you and what you need to include in your response. You will have the opportunity to explain why a tax assessment is incorrect or should not be made. In the event of proposed changes to your tax return, the notice will explain why the change is being made and allow you to accept or challenge the proposed change. If you owe money to the IRS, the notice may contain a request for personal financial information, allow you to file an appeal or propose your own plan to address the tax liability. Some IRS notices simply request your signature. Never sign anything from the IRS without fully understanding what it is and how it affects you.
Resolution
Some IRS situations are simple to resolve. For example, if you forgot to sign your tax return when you mailed it in, the IRS notice will include a signature page for you to sign and return. More complex situations, such as audits and tax debts, may require substantial disclosure of personal financial information and extensive negotiations. All IRS problems have specific, written procedures that the agency is required to follow to reach a resolution. These procedures are available at irs.gov, within the Internal Revenue Manual. While most IRS issues can be resolved on your own, there may be times when you are unable to reach a resolution within normal IRS channels. If your revenue officer is being unreasonable, or bank account levies or wage garnishments are leaving you unable to pay for rent and food, contact the Taxpayer Advocate Service for assistance. Even with Taxpayer Advocate help, if you're still in over your head, consider the assistance of a licensed tax professional, such as a tax attorney or an enrolled agent, to directly represent your best interests.