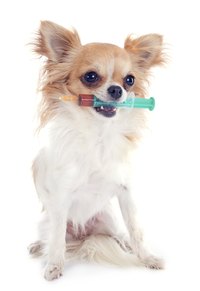 Vaccinations protect your dog against a variety of fatal or debilitating diseases. While vaccines can be expensive, they are always cheaper than vet bills to treat preventable diseases. With just a little research, you can find affordable ways to keep your dog up to date on vaccines.
Low-Cost Rabies Vaccination
Almost every state in the country has requirements for rabies vaccinations, and most require that the vaccine be administered by a licensed veterinarian at regular intervals. Since rabies is a health issue, many local humane societies and rescue groups offer low-cost or free rabies vaccines. Call your county animal services or local American Society for the Prevention of Cruelty to Animals shelter for a list of low-cost rabies vaccination clinics in your area.
Low-Cost Core Vaccines
While other vaccines are not usually mandatory, they are highly recommended. Usually, puppies receive a series of boosters, and vaccines are updated at regular intervals. The American Animal Hospital Association considers canine parvovirus, distemper virus and adenovirus-2 vaccines as core vaccines. Many of the humane societies and clinics that offer low-cost rabies vaccines will offer recommended guidelines at discounted prices.
Multi-Year Vaccines
One way to save on the cost of vaccines is to have your dog immunized with multi-year vaccines instead of one-year vaccines. Recent studies have shown that core vaccine efficacy lasts for much longer than one year, and often for as long as three to five years. In many states, three-year rabies vaccines are also available. While your initial cost may be more, you will save significantly by not vaccinating every year.
Doing Your Own Vaccines
Many online pet supply retailers and local farm stores sell vaccines, although rabies is rarely available from anywhere except a veterinarian's office. You can save a significant amount of money if you buy the vaccines yourself. However, be sure you consult a veterinarian for dosages and administration techniques before doing the vaccines.