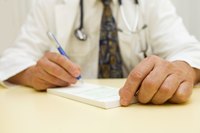 Baytril is the brand name of an antibiotic belonging to the fluoroquinolone family. Manufactured by Bayer Animal Health, Baytril is also known as enrofloxacin. It acts by deactivating bacterial enzymes so bacteria can no longer replicate and the infection cannot spread. Baytril is effective at treating respiratory infections, urinary tract infections, skin infections and puncture wound infections such as those caused by abscesses.
Administering Tablets
Baytril is available in 22.7-milligram, 68-milligram and 136-milligram tablets to cater to dogs of different sizes. The tablets are enteric coated to mask the bitter taste of the drug -- which means that if you crush them to hide them in food, the bitter taste will be apparent. Baytril flavor tabs are more palatable and are thus suitable for crushing and mixing in food. Let your vet determine your dog's dosage, which is typically 2.5 to 10 milligrams per pound of dog weight per day. Always finish the entire course of Baytril treatment that your veterinarian has prescribed, even if your dog's symptoms cease before then.
Other Forms and Preparations
A liquid form of Baytril, administered via injection by a vet, is available. Compounding pharmacies can prepare flavored liquid variations for difficult-to-medicate. Baytril Otic, a water-based emulsion, contains Baytril and silver sulfadiazine. Used primarily to treat infections in the outer ear canal, Baytril Otic is available in 15-milliliter and 30-milliliter oval plastic bottles with a dropper tip. Administration requires shaking the bottle and placing drops according to the dosage instructions on the bottle, then gently massaging the ear.