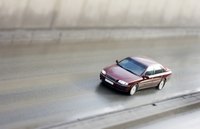 Some car rental companies have begun to allow renters to use a debit card or cash to obtain a car. The policies vary, but often the travelers have to put down a large cash deposit, sometimes twice the cost of the rental.
Things You'll Need
Credit report
Valid driver's license
U.S. passport (optional)
Recent utility bill
Airline ticket (optional)
Call all the car rental companies that you're interested in and ensure that they offer cash-only rentals. Hertz, Thrifty, Alamo and Budget, along with others, allow this, but they don't advertise it. They prefer credit or debit cards used for the rental, and they all have different regulations. Many companies also use franchises, with each franchise setting its own policies.
Agree to complete a credit check or bring a copy of your up-to-date credit report. Car rental companies run a credit check on all people who rent with a debit card or cash because they want to ensure that they're renting to a responsible person. They'll require you either to bring one or to submit to one.
Gather the documentation that the car rental company requires. It requires a valid driver's license or a valid passport, a utility bill dated within the last 60 days that includes your home address, and a copy of your bus/train/airline ticket if applicable.
Make a reservation for the smallest car that fits your needs. If you can handle an economy vehicle, pick that size. Most car companies place some type of ban on the vehicles rented with a debit card or cash, which prohibits the rental of larger vehicles.
Bring a cash deposit in addition to the total fee for the rental. The cash deposit varies depending on the company, so check on this in advance. Hertz, for example, charges $200 over the total cost of the rental, while Alamo charges a deposit of $300 to $500.