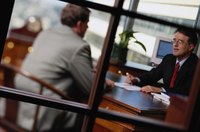 High-net-worth individuals and families turn to wealth managers when just any financial adviser won't do. Wealth managers are financial professionals who offer not just investment recommendations, but comprehensive services including wealth protection and succession planning. Choosing a wealth manager involves a mix of soft factors and hard numbers. A wealth manager should have a good track record, yet be someone you feel comfortable discussing personal financials with.
Comprehensiveness and Process
Wealth managers are distinguished from other financial advisers by the breadth of their offerings and a collaborative approach with numerous professionals. A wealth manager should provide a combination of financial planning and private investment portfolio management, inclusive of charitable giving planning, legal advice, retirement planning and risk management. Financial services website Financial Advisor Select breaks it down to a formula: Your wealth manager should provide investment consulting to meet financial goals, plus advanced planning to address wealth transfer and growth, plus relationship management encompassing the client, the client's other professional advisers and the manager's own network of associates.
Fee Structure and Client Relations
Because wealth managers emphasize relationship management and a consultative process over a series of meetings, your wealth manager should work closely with you to uncover financial goals and create a plan to meet them. You should feel confident about his experience in the industry, investment style and client relations. You'll want to find out how he gets paid -- that is, through a fee or commissions or a combination of both. Ascertain if fees are based on services or assets under management. Further, ask what conflicts of interest he has and whether he can provide a contact list of satisfied customers.
Value and Personal Goals
While choosing a wealth manager is not a science, basic tenets guide the way in finding a manager who is right for you. To determine whether a wealth manager offers value, ascertain what your personal goals are and how you want your manager to help them. As Forbes writer Jim Cahn notes, most people want an adviser to maximize their returns, possess specialized knowledge and create a strategic financial plan that eliminates emotion from investing. Determine what kind of services you are getting for the fees charged, as you may get a completely different set of services for the same price elsewhere.
Three R's
To sum up, Cahn says to look out for responsibility, resources and rigor as the other criteria for selecting an investment manager. Responsibility involves determining whether the manager holds a fiduciary or non-fiduciary responsibility toward her clients. In the first case, she is legally bound to act in the client's best interest. While this bodes well for building trust, fiduciary fees may also be more expensive than transaction-based commissions. You'll have to decide which is a greater priority. As for resources, find out how extensive the manager's offerings are. Rigor involves asking the manager how she applies academic thought leadership to her investment strategy.