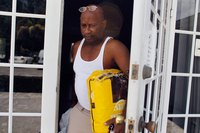 Dog food bags need to be separated into their paper and plastic components if you want them to be recycled. If you are going to put effort into them anyway, you should turn them into something that is useful. You can use them as they are as trash can liners for your kitchen bin, to put used litter into, keep greasy car parts in or turn them inside out and use them as parcel mailers. They also can be turned into tote bags or pet beds.
Things You'll Need
Large dog food bag
Scissors
Ruler
Pencil
Sewing machine
Knitting needle
Pins
Velcro strip (for pet bed)
Pillow (for pet bed)
Tote Bag
Clean the dog food bag thoroughly. Decide how deep you want your tote bag to be and measure up from the bottom of the bag. Add half an inch and use a ruler and pencil to draw across the bag. Use scissors to cut off the top of the bag.
Use scissors to cut two 3-inch wide straps from the scrap left as the top of the bag. Make them 20 inches long. Fold each strip in half with the picture on the inside then sew a quarter inch hem along the full length. Turn them right side out using the blunt end of a knitting needle to help.
Turn the half-inch hem into the top of the bag and pin the ends of the handles to the inside. Use a zigzag stitch to go around the hem and sew the handles in place at the same time. Make sure your handles are secure and add some extra stitching if they are not.
Your tote bag is ready to use.
Pet Bed
Clean the dog food bag thoroughly.
Sew a velcro strip across the top so that it can be kept closed.
Place a pillow inside and use the velcro to close the bag. Use for your own pet or give to a local animal shelter.