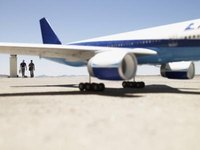 Standby flying is when a passenger asks to get on a flight other than the one he's booked on. Different airlines have different procedures for getting standby status, and the rules used by the popular budget carrier Southwest Airlines are more demanding than most. Being aware of these rules might influence what kind of ticket you buy when flying with Southwest.
Be ready to pay extra fees at the airport if your original fare was a discounted price. Southwest does not permit standby travel for anything other than business select and anytime (regular) fares. To become eligible for standby status, a passenger must pay the difference between any discounted fare and the regular price. This can mean a substantial markup.
Request your status in person at the airport. Standby status for most airlines, including Southwest, can be secured only by those who appear at the airport and request it at a check-in, ticketing or in-transit help desk. You cannot get standby status over the phone or online.
Be aware of the pecking order. People who were dislodged by overbooking come first, followed by those who missed their flights, followed by everyone else on a first-come, first-served basis.
Don't count on getting a standby seat if you're in a group. On busy routes, having any seat open up is a fairly lucky occurrence. Getting a cluster of them is highly unlikely. A group trying to do standby should either request status as individuals and be prepared for some to get standby seats while others won't, or forget the whole idea.