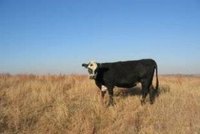 Organic beef is one of the fastest-growing sectors of the natural foods market. Organic beef is defined as beef that is fed only on certified organic grasses and grains, have free outdoor access, and free of hormones and other potentially harmful drugs popular in mainstream cattle production. Making money raising organic beef can be a challenge but is well worth the hard work.
Set up a totally organic grazing area. Certified organic grasses must be strictly fertilizer- and chemical-free, so only certified organic or all-natural remedies can be used.
Determine what type of feeding program works best for your cattle. Organic cattle are normally fed on a strict grazing diet or a grain-supplemented diet. Grass feeding consists of organic grasses and hay, while a grain-based diet includes grazing as well as organic grains. Grass-fed cattle tend to be leaner, while grain-fed cattle are richer and fattier, although the grains can be more costly.
Decide the best way to house your cattle. Organic beef is typically raised with as little restriction as possible, so the larger, more open and spacious their living space, the better off your cattle will be.
Locate an organic beef producer and purchase calves from organic cows. Organic offspring come from mothers who have nursed from organic cows and fed a straight organic diet. They will give you jump-start on your own organic beef operation.
Monitor your cattle carefully for signs of illness. Organic cattle must not be given foreign products that might put your organic beef operation at risk. Any antibiotics or hormones must be kept out of your operation, so consult your veterinarian or U.S. Department of Agriculture guidelines for information on what products can be used in case of emergency.
Contact your local USDA office to find an organic certifier in your area. They will inspect your property and feeding plan to assure you are feeding and raising strictly organic beef. If your property passes inspection, your operation will be certified an organic beef producer, and you will be allowed to sell your organic beef on the general market.