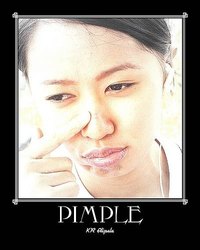 Getting rid of pimples can be frustrating, as there is no cure for acne. Whiteheads, blackheads and inflamed areas are caused when pores in the skin become clogged. The face and shoulders are the most common areas pimples are found. Yet, inflammation can also appear on the shoulders, buttocks and the chest areas. Teenagers usually show signs of acne; however, pimples can be found at any age. Treating acne is vital, because it it's not treated, acne can lead to depression and avoiding social situations.
Things You'll Need
Washcloth
Facial cleanser
Do not allow dirt or grease to touch skin. Avoid touching your skin with your hands and fingers. Picking, squeezing or rubbing the skin can add additional irritation to the already inflamed areas.
Cleanse daily. Wash your face and other acne-prone areas daily with a mild non-drying soap. Do not overcleanse, as washing multiple times a day can cause the skin to produce more oil than normal---leading to additional pimple spots.
Apply benzoyl peroxide lotion or gel. Strengths vary from 2.5 percent to 5 percent to 10 percent. Start using it once a day; after one week, apply it twice daily. A light coat is recommended for the entire facial or inflamed area, rather than on individual pimple spots.
Allow a small amount of daily sun exposure. A small bit of sunshine has been shown to have a beneficial effect to those suffering from acne, according to a study reported in the May 2000 edition of the British Journal of Dermatology. Be cautious, though, because overexposure can lead to sunburn and cancer.
Choose cosmetics wisely. Look for ingredients that say water-based or non-comedogenic. Make sure to wash makeup off at the end of the day.