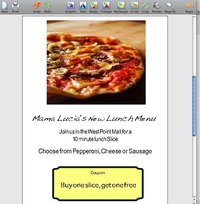 Whether it's for a pizza fundraiser, an addition to a high school menu, a pizza party or a pizza business, making a flyer to advertise pizza is a great chance to be creative. With the use of simple desktop publishing software or a basic word processing program, designing a pizza flyer that gets attention is quick and easy. Here's how.
Things You'll Need
Word processing software or desktop publishing software
Clip art graphics or pizza-related photos
Open your word processing or desktop publishing software to a flyer or blank page template. A flyer is a full-page advertisement and doesn't require any special page setup. The average flyer will be printed on an 8.5-by-11 sheet of computer or copy machine paper.

Select your graphics. You can choose from food graphics in your publishing software, use your own photographs or find artwork to use on the Internet (see Resources below). An image of a big slice of pizza or a whole pizza pie would work great. You can also select a cartoon image of an Italian pizzeria.

Insert the graphic into your flyer by going to the Insert or Graphic command and then browsing to find your image. To catch people's attention, make the image cover one-third of the flyer. 


Insert your text. Open a text box and type in all the pertinent information for your pizza event or sale. Include prices, phone numbers, ordering information or party details in clear lettering to cover the other two-thirds of your flyer. If you're making a restaurant flyer, you can also list any specialty pizzas and ingredients and include a coupon to help gauge the flyer's value.

Proofread and print. Double-check all your facts and spelling and then print the flyer on your color printer.