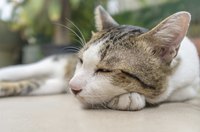 Your veterinarian diagnoses anemia in cats through a complete blood count. Anemia is a serious disease from an iron deficiency that leads to lethargy. Blood loss or red blood cell production at a low rate causes anemia. Cats can become anemic from flea and tick bites, causing loss of blood or by eating sub-standard cat food without the appropriate levels of iron. Proper care after diagnosis will help your cat recover quickly.
Things You'll Need
High-quality cat food
Food dishes
Water
Flea and tick prevention
Prescription medications
Fan (optional)
Heater (optional)
Feed your cat a high-quality cat food that is meat-based and includes taurine and iron. Taurine is an amino acid that aids in vision and normal heart patterns and is needed by all cats. Anemic cats have a high heart rate while sick to try and compensate for the lower levels of blood pumping in the heart. (ref 5) Follow your veterinarian's suggestions on the amount of cat food for your recovering cat. He may need more food than normal to recover properly from anemia.
Keep your recovering cat indoors while he is on medications. Cats that roam outside get fleas more readily and other outside cats may fight with yours and have casual care in vaccinations and flea control. Outdoor cats can re-infect your feline friend with fleas or parasites if they come into close contact. This may have adverse effects on your parasite and flea prevention controls, and allow more red blood cell loss.
Give your cat his anemia medications on time every day as advised by your veterinarian. Usually, the medications include an antibiotic and a steroid to suppress the immune system and dispose of red blood cells at a slower rate. The treatment course of medication is generally about three weeks.
Stay up to date on flea and tick preventatives and your cat's vaccination schedule when he is recovering from anemia. This will help him to heal quickly. Your vet will most probably want a follow up visit after the medication is finished to check the complete blood count again for anemia and determine if further treatment is needed.
Keep your cat comfortable with a fan in the summer or a space heater in the winter to help control his body temperature. Some cats display excessive panting in the summer with anemia. Cats with anemia are generally not very active and may need additional blankets in the winter.