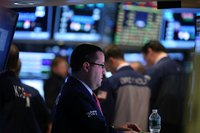 Investing in the stock market has been a vehicle to wealth for millions of people over hundreds of years. In almost all cases, investments were made through stock brokers. Choosing the right stock broker is one of the most important financial decisions you'll ever make, so it's important to take your time to carefully compare the costs and capabilities of the many brokerage companies out there to locate the one that's right for you.
Things You'll Need
Determine your investment objectives. If you're only using a small fraction of your assets to invest every now and then, you should make cost control your main priority. Use financial publications such as Kiplinger's and Barron's to compare one brokerage against the other, and see who offers the lowest commissions and fee structures. If you're investing larger sums that constitute the majority of your assets, you might want to choose your broker based on capabilities rather than price. Be aware that price and capability are not mutually exclusive, however, since some of the lowest-cost brokerages such as TradeStation and Interactive Brokers have consistently received the highest customer satisfaction rankings.
Decide whether you want to trade or invest. Trading involves frequent buying and selling of stocks in hopes of making small, recurrent profits. Investing, on the other hand, involves deploying your capital in one or more companies for at least a year. Typically, larger full-service stock brokers are better equipped to assist longer-term investors looking for help with analyzing the financial statements and business prospects of the companies they want to invest in, while discount brokers are essential for people who are self-directed, actively trade and seek to keep the cost of their commissions down.
Figure out how much active help and advice you want from your broker. If you're relatively new to investing or trading, you might want the assistance of a full-service broker, who can give you some advice on investing methods and procedures, such as how to buy a stock with a stop-limit order or how to set a trailing stop loss. If you're more independent-minded and already checked out the basics of investing and trading, you should set up an account with a discount broker. Be aware that even if you use a full-service broker, the advice you get will not necessarily improve your stock market returns.
Determine which types of stocks you want to invest in or trade. Some brokerages are only equipped to buy and sell shares of mainstream American companies that have minimum market capitalizations of tens of millions of dollars. If you intend to purchase shares in low-market capitalization companies, illiquid penny stocks, foreign entities, or other irregular securities, be sure that your broker can accommodate.
Make sure that the broker you're considering opening an account with is registered with the Securities Investor Protection Corporation (SIPC), which insures your account for up to $250,000. If you have a larger account, consider looking for brokers that carry extra insurance from private providers such as Lloyd's of London.