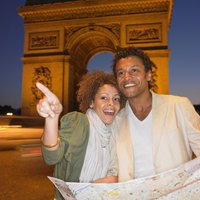 Eight of the world's 20 most expensive cities are in Europe, according to 2013 research by the Economist Intelligence Unit, which wouldn't seem to bode well for prospective visitors. However, the continent is wide, complex and varied, meaning there are plenty of opportunities to unearth deals.
Budget Accommodation
For families with children, finding an affordable hotel in many European cities can pose a phenomenal challenge. Resist the temptation to let travel agents pick up the task, though, as their room finder services are rarely geared towards returning competitive prices. In most countries, a one-star hotel will be acceptable, because hotels have to clear rigorous safety and cleanliness standards to receive any rating in the first place. For those traveling alone or with more flexibility, hostels are the key to savings, with more than 2,000 hostels across the continent, usually right in the city center, offering discounts for students and the over 55s. Alternatively, Rick Steve recommends family-run bed-and-breakfast accommodation, not just for the price but also for the chance to get to know the country.
Cheap Tickets
Other than traveling during low season, there are plenty of smart ploys to save money on transport. Buy a Rail Europe pass -- which must be booked before you get to Europe -- for discounted travel covering more than 50 train companies across the continent. You can buy a pass to cover either a single country or a region. Otherwise, booking tickets in advance online can be considerably cheaper, especially in the UK, but tickets are not flexible. Renting a car is rarely a cost-saving measure in Europe, with tolls, high parking fees, and exorbitant gas prices in countries such as Italy and the UK. Air travel, on the other hand, is sometimes ludicrously cheap, with budget airlines such as RyanAir and EasyJet covering all the major cities. Bear in mind, though, that these are no-frills airlines fly to secondary airfields outside their advertised cities.
Competitive Seasons
The best time topick up the cheapest deals in Europe is between October and April, according to "Rick Steve's Europe," with shoulder seasons from April to June and September to October. Visiting most European cities during this period usually guarantees cheaper flights and accommodations, albeit with notable exceptions. You wouldn't have much luck finding a cheap, last-minute room in Munich in late September and October, for example, as the city is in the throes of Oktoberfest. The most expensive time to visit Europe is June to August. However, this is rarely the time to see many cities at their best. Paris and Rome, for example, wind down considerably over the searing summer months. For other cities, such as London and Berlin, activity is vibrant year-round.
Frugal Tips
In general, Eastern Europe is cheaper to visit than Western Europe, although the difference between the Euro zone countries and the rest is less defined than in the past. Lonely Planet recommends the Albanian Riviera for deserted Mediterranean beaches on a budget, with Berlin and Lisbon among the most affordable city breaks. Even in countries often perceived as expensive, savings are there for the taking. Museums and galleries in London, for example, are usually free, while buying a Paris Pass secures savings on admission to more than 60 museums and cultural sites, fast track entry and public transport. Rick Steve recommends staying away from restaurants in tourist areas, particularly those near famous tourist sites. If possible, look for local restaurants with a set menu, or buy groceries and take a picnic with you each day.