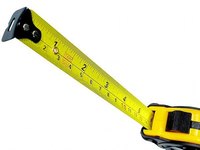 The question of how to increase height or how to get taller may sound like something only people who buy and believe in tabloids and their ads would possibly ask. But people of all ages really are finding out how to get taller without surgery or walking on stilts. As it turns out, it's not that we can extend the maximum height for our genes, it's that we often don't reach that maximum because of various reasons, so if we reverse those conditions, we can achieve our maximum height. Also, realize that your parents may also not have reached their genetic height potential, so just because Dad is only 5'9" doesn't mean he doesn't carry the genetics for six feet. Being taller was still in his genetics, which you may now carry. There are ways to get taller for all ages. This eHow article covers various methods from mild ways to increase height to ways to get significantly taller for some people.
For all ages, do heightening yoga exercises and remain maximum hydrated. Yoga can't increase bone length, but that's not the only way to increase height. Certain "asanas" can increase the fluid between each of the spine's disks, and so can drinking six to eight glasses of water a day, so combine them to increase height. Go online or to your library and find yoga exercises specifically meant to increase fluid in the spinal column disks. See if classes are available in your town. You don't even need to tell them you want to use yoga to increase height. Many people use the same asanas for relieving back pain.
For puberty and adulthood, look into height enhancing exercises. For adults, you can add up to two inches just by changing your posture with these exercises. For those still in puberty and still growing, the height inducing exercises may help create an environment that will help them reach a maximum height before their growth shuts down permanently. See the "grow taller exercises" at walktallshoes.com. Some of these are actually yoga and will address the suggestion in step one.
For adults, get Hellerwork treatments. Hellerwork is a form of deep tissue massage designed to treat and cure a number of ailments based on the premise that most human bodies are unnaturally compressed. Time after time, people who've completed Hellerwork sessions discover they're taller than they were before. The treatments are quite intense, so be prepared, and be sure your practitioner is very experienced and knows what conditions you may have that would cause you to need to avoid the treatments.
For children up to the start of puberty, increase human growth hormone naturally. Laughter, meditation, deep breathing and optimal nutrition are known to naturally increase human growth hormone, which you don't want stunted during the growing years. It's easier for kids to get into things like meditation and deep breathing with others their own age. See if there are workshops, camps or classes for young people that teach and promote exemplary nutrition, meditation and deep breathing. Research foods especially known to increase human growth hormone naturally, but be careful of expensive supplements with no research backing them.
For children up to the start of puberty, have their doctor look into new research about giving your child human growth hormone even if your child doesn't have any hormone deficiencies. The Goteborg Pediatric Growth Research Center in Sweden has found this can help children grow sometimes significantly taller even though it would appear they're going to end up very short. Abuse of human growth hormone can have devastating effects, so only doctors are allowed to monitor such a program.