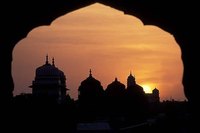 The Indian economy is one of the largest of the world's emerging markets, and continues to expand at a rapid pace. There is now a larger middle class in India than the entire population of the United States. Given this current economic strength and future potential, India has become a prime destination for Western franchise operators looking to expand their business. This article details some of the ways you can open up a franchise in India.
Determine the city in which you want to open a franchise. Cities like Mumbai, New Dehli and Bangalore are far more economically developed than poorer cities like Patna and Orissa. They consequently offer much better infrastructure and a wealthier potential client base. One drawback, however, is that since these markets are already somewhat mature, you probably have to pay a much larger premium to open a franchise in them than if you set up shop in a poorer, underserved city.
Determine your niche. The primary candidate businesses for franchise operation are restaurants, consumer goods stores, computer repair services and document and print service concerns. Stick with a field in which you either have experience or have experienced managers and employees at your disposal. Also, unless you are very well capitalized or willing to take very large risks, only open a franchise of an established company, such as Subway Restaurants' or Filta Environmental Kitchen Solutions, and avoid lesser-known entities.
Open for business. You can do this either by traveling to India yourself and forming an agreement with a franchise provider, such as Subway Restaurants India, and then registering your company with the Ministry of Corporate Affairs, or you can buy into a franchise by using an international broker like Franchise International, Inc. Depending on the type and scale of the franchise, an international broker might be able to handle all ownership, registration and licensing paperwork without you even needing to travel to India, but it's not a good idea to open a business in India unless you are willing to go there and at least get it up and running.
Staff your business. Know ahead of time how many employees you will need and what their functions will be. Then utilize the services of an Indian employment agency or consulting service, such as Backer Associates, to screen for appropriate personnel, including an on-site franchise manager who will have responsibility for day-to-day affairs.
Stay compliant with regulatory reporting and tax requirements in both India and your country of residence. You'll definitely have to pay income taxes in India, and if your business exceeds a certain revenue level, you'll also have to pay U.S. income and possibly other taxes. Consult IRS publications to stay current on the ever changing foreign income cutoff level, as well as other reporting requirements for people or businesses holding ownership stakes in foreign companies. Also be sure to work with an accountant experienced and well-versed in international business.
Manage your currency risk. Since your initial investment will likely be in U.S. dollars while your Indian franchise will be earning revenues exclusively in Indian rupees, you will be exposed to exchange rate risk in the event the rupee loses value against the US dollar or other international currencies. You can hedge this risk in the foreign exchange market by purchasing a small amount of US dollar futures, or short selling Indian rupee futures, helping to offset some of the currency depreciation risk. Of course, if you consider the rupee undervalued relative to the US dollar, you can also operate unhedged.