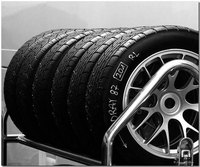 The typical American city has a plethora of places where drivers can get their tires changed. Drivers may opt for top-notch service at their auto dealerships or skew toward affordability by visiting a chain store like Car-X. The constantly rising number of cars, trucks and SUVs on the road means that there is more than enough room for independent tire shops to compete with national chains. An independent tire shop has to be run efficiently to keep customers on the road, insurance claims in the pipeline and inventory available for installation.
Things You'll Need
Tire repair and changing tools
Outline tires and accessories that will be sold in your store that are not distributed elsewhere in your community.
Peruse real estate listings in your community to find old garages where your tire shop can start immediately. Look for a building with mechanic's pits, a waiting area and an office to avoid serious remodeling.
Fill out paperwork for a business license with your city and state governments before setting up shop. Review materials for zoning variances and environmental regulations that may delay your shop's grand opening if left unaddressed.
Recruit two experienced mechanics to work in your tire shop from the first day of business. As your tire shop is getting ready to open, look for part-time mechanics from local colleges and technical schools that can learn from your veteran mechanics. Experienced mechanics should be able to handle basic tire changes, realignments and bent rims without difficulty.
Work with a tire wholesaler like Modern Tire Company to stock your tire shop with all-terrain, truck and standard tires. Modern Tire Company specializes in heavy-duty tires for off-road and construction vehicles, which can attract customers who are left unserved by chain tire stores.
Match your mechanic's pits with car lifts from BendPak Inc. that will make tire changes easier. Your tire shop should use hydraulic car lifts rather than crank lifts to keep vehicles in the air without worrying about the safety of mechanics.
Outfit your mechanics with power tools, gloves, overalls and other supplies from a company like All Tire Supply. Each work station should have a tool box, lug nut wrenches, hydraulic tools and other accessories needed to complete tire changes.
Offer your own warranty to cover faulty parts and labor used by your tire shop. Your shop should cover tire replacements as part of manufacturer warranties, as well as provide an extra layer of protection with your own limited warranty. Print copies of this warranty with each estimate to let customers know that poor work will not cost them extra.
Create an invoicing system for your tire shop that will be easy to understand for shop personnel and customers. Your invoice forms should feature an explanation of services requested, price and time estimates, the name of the assigned mechanic and the selected product name. Invoices on point of sale (POS) computers should aggregate customer information so that repeat visitors have a chronology of past tire changes, repairs and other visits.
Display washer fluid, oil, wiper blades and other auto accessories in your waiting room to generate additional revenue. Your shop can earn additional income by encouraging consumers to purchase basic supplies during the time spent waiting for services to be rendered.
Protect your tire shop from lawsuits and financial harm with commercial insurance from Allstate. Your shop can protect itself from legal action by customers with coverage for loading and unloading cars, and mechanics driving repaired cars over short distances.