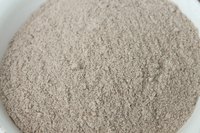 Psyllium husk powder isn't just for keeping you regular and relieving constipation. This soluble fiber supplement can improve cholesterol levels and help even out your blood sugar. You need to take just the right amount of psyllium, however, or you might have uncomfortable side effects.
Daily Dosage
Start with a small dosage of psyllium husk powder, like 1/2 teaspoon just one time a day, the University of Maryland Medical Center suggests. It doesn't matter what time of day you take it, as long as you're consistent. This way you remember to take the supplement without consuming the doses too close together. As long as you don't experience any complications, add another 1/2 teaspoon later in the day after several days -- maybe one dose with breakfast and one dose at dinner, for example. Eventually you can work your way up to 1 rounded tablespoon, three times per day. Your specific brand may vary slightly, however. Follow the manufacturer's directions closely.
Drink Concoctions
It's generally recommended to mix psyllium husk powder with a full 8-ounce glass of water. Psyllium absorbs fluid quickly, meaning you have to drink it right away. You don't have to take psyllium with plain old water, though. Mix it with a glass of juice or blend it into a smoothie instead. If it makes your drink thicken up, add more liquid until you have the right consistency.
Recipe Addition
Boost the fiber content of your everyday meals with psyllium husk powder. Sprinkle a dose onto your bowl of cereal. Or stir a spoonful into oatmeal or yogurt in the morning or into soup at lunch. Psyllium husk powder blends in with batters and coatings for meat, poultry and fish too. As an alternative way to take psyllium husk powder, add a spoonful or two to baked goods -- breads, cakes or even cookies. You'll be able to sneak in more fiber, almost undetectably.
Other Considerations
If you've never taken psyllium husk powder before, start out slowly. You need to give your body time to adjust to extra fiber. By jumping right in to three doses a day, you could experience bloating, belly cramping, gas or loose, watery stools. Always drink lots of water throughout the day when you take psyllium. Without water, the supplement could leave you constipated. Lastly, while psyllium husk powder is available over the counter and is generally safe, discuss it with your physician before taking it. This fiber supplement can interact with medications, possibly minimizing their absorption.