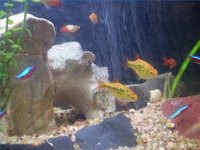 A fish tank is a creative way to add living art to any room of your home. Properly preparing a new fish tank will ensure your new fish will have a safe living environment. A proper tank setup will also keep the aquarium cleaner.
Things You'll Need
Fish tank stand or table
Fish tank
Aquarium rocks, gravel, decorations and plants
Distilled water (or tap water and a bottle of chlorine remover)
Aquarium heater with temperature control
Fish tank pump and filters
Aquarium lights and light bulbs
Bottle of solution to help bacteria growth
5-in-1 PH testing kit
Driftwood
Fish
Evaluate your space and decide what size fish tank you need. Find a location with enough room for a stand that is also close to an electrical outlet. Remember you will need room between the fish tank and the wall for the aquarium filters, tubes and electrical cords.
Set up a sturdy stand or table in the desired location. Place the fish tank on top. Make sure the fish tank fits securely and will remain stable.
Thoroughly rinse your aquarium rocks, gravel and decorations under the tap to get rid of excess dust. Spread the gravel evenly over the bottom of the fish tank. Place the rocks and decorations in the tank.
Fill your fish tank with water. Most fish stores suggest using distilled water. If you decide to use tap water, be sure to mix it with a chlorine remover. Follow the instructions on the back of the bottle.
Set up and turn on your aquarium heater. Make sure you set the temperature control to the proper temperature for the kind of fish you are planning to keep. Tropical fish like warmer water than the goldfish varieties.
Set up your filter pump according to the manufacturer's instructions. Place the filters into the pump. Prime the pump with water and plug it in.
Set up the aquarium lights.
Cycle your tank. This is a very important process because it lets the good bacteria grow while reducing the amount of chemicals in the water. You can add a solution that encourages the growth of the beneficial bacteria. Be sure to follow the instructions on the bottle. Let the water cycle for at least two weeks. Many fish experts suggest letting the water cycle for one full month before adding any fish.
Test your water with a 5-in-1 PH testing kit. These test strips will test for nitrates, nitrites, PH levels, alkalinity and water hardness levels. You are ready to add your new fish friends once all of these chemical levels read "safe."
Introduce your fish to the fish tank by submerging their bag into the aquarium water for 15 minutes. Release your fish and enjoy.