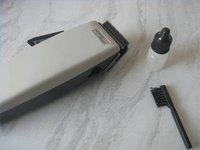 Good hair trimmers can last a lifetime. Maybe you have a grandfather or uncle who bought an American-made trimmer with 100 percent stainless steel blades in 1975 and he still uses it. Today, many economical trimmers and clippers on the market are made with a mix of metals or alloys, which corrode more quickly if not cared for properly. It is pretty disappointing to pull out a pair of trimmers within a year of purchase, only to see brown rust spots forming on the blade. Rust inhibits the cutting action of the blades, eventually rendering trimmers unusable. The good news is that corrosion is preventable.
Things You'll Need
Clipper oil
Trimmer brush
Absorbent towel
Bowl (optional)
With the unit unplugged or turned off, literally brush excess hair from trimmer teeth after use.

Hold the trimmers in a side position and squeeze one to three drops of oil onto the top of the trimmer blades.

Turn them on and the oil will drip down through the blades while they run, removing hair and product, fully lubricating the trimmer blades.
Wipe excess oil and hair off with an absorbent towel.
Store the trimmers in a drawer, or container with a loose-fitting lid or vents for air circulation.