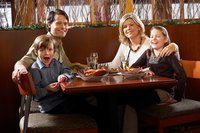 We all love to eat out with family and friends; it's even better when you can get a portion or all of your meal for free. Many restaurants, particularly chain eateries, offer some form of free food to their customers to entice them to come in and come back.
Go out to eat on your birthday. Many chain restaurants will pick up at least your dessert when it's your special day; many will offer children their entire meal for free (age restrictions apply). Chain restaurants, such as Applebee's, Benihana's, Claim Jumper and Macaroni Grill all offer a free dessert at the very least. If you're in the mood to game, Dave and Busters offers a game credit for free play. Birthday boys, get a free song and t-shirt from Hooters. Contact your favorite restaurant to find out if it offers free birthday treats. You can also conduct an Internet search for "free birthday food at restaurants." Call any eatery to confirm the information provided on the Web.
Visit your favorite chain restaurant's website and look for the option to join an email list. Click on the email list option and provide some basic information about yourself; it usually consists of first and last name, email address and possibly your date of birth (this if for birthday coupons). Once you have completed the list of questions, click the "Submit button." Within 24 hours, you should receive an email from the restaurant thanking you for joining and providing you with a coupon for a free appetizer. For example, as of the date of this publication, if you join Chili's email club, you receive a coupon for a free chips and queso appetizer.
Keep an eye out for special nights advertised on TV or in your local paper. Some chain restaurants offer a "kids eat free" night. Many times you will find coupons for a free meal with the purchase of another in your Sunday paper. These coupons are offered by a wide variety of restaurants, from fast food to family restaurants.
Print any coupons you receive and present them to your server so she can take the free item off of your tab. Make sure to use your coupons before they expire. If it's your birthday, notify your server of this at the beginning of your meal and provide any identification she might ask for.