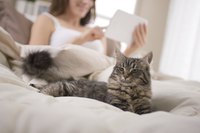 If your cat's pancreas stops producing sufficient amounts of insulin or his body no longer responds properly to this vital hormone, diabetes can result. Feline diabetes treatment depends on whether your cat is diagnosed with the insulin dependent or non-insulin dependent form of the disease. The majority of cats require insulin upon diagnosis, and many cats who don't need them initially eventually do need them.
Feline Diabetes
If your aging cat starts drinking a lot of water -- with subsequent flooding of the litter box -- and loses weight but always appears hungry, he may be suffering from diabetes mellitus. While any cat can develop diabetes, it's most common in older, overweight felines, especially males. Your vet diagnoses diabetes via a series of blood and urinary glucose tests. A one-time high blood glucose reading can be an anomaly, so repeated tests confirm the disease.
Dietary Therapy
Your vet might prescribe a diet specifically designed for diabetic cats, one low in carbohydrates while high in protein. Some cats respond to a high-fiber diet, so ask the vet about experimenting with Kitty's nutrition. If your cat is fat, the vet should recommend a weight reduction program. Occasionally, mildly diabetic cats can achieve remission from diabetes from dietary therapy alone, but they are the exception.
Diabetic Cats and Insulin
If your cat requires insulin, your vet will prescribe the correct dosage for your pet. Don't change the amount without veterinary approval. Your cat will need his daily shot or shots at the same time each day, in conjunction with meals. Even if you're squeamish about needles, you can learn to administer insulin to your cat relatively easily, with your vet's input. The shots are subcutaneous: You'll draw out the correct dosage from the insulin bottle into the syringe, then pull up your cat's skin somewhere along his back and inject him. Avoid injecting him in the exact same spot long-term, since a granuloma, or lump, could eventually form. Since he receives his medication at the same time as his meals, chasing him down for injections isn't usually an issue.
Keeping Records and Testing
Your vet will need to monitor your cat as a matter of routine so you'll know when to make any necessary changes to the amount and frequency of his insulin injections. Keep daily records of the time of the shot and feeding and the amount of food and water consumed. Weigh your pet weekly. Your vet can show you how to collect urine for glucose level monitoring. This is best done by collecting the cat's first urinary output of the day. Instead of cat litter, use pellets designed for collecting urine. Your vet might provide you with a kit so you can do the testing yourself rather than bring the sample to the veterinary office.