Making rag rugs dates back to the 1800s, when thrifty homemakers would reuse old clothes and fabric scraps as floor coverings. Rag rugs are simple to make, very sturdy, and the scrappy mix of colors makes them beautiful. If you don't have many fabric scraps on hand, look in your local thrift store for some old sheets, which yield lots of rug material.
This design, which measures 19 inches by 29 inches, is crocheted with several fabrics to create vertical stripes.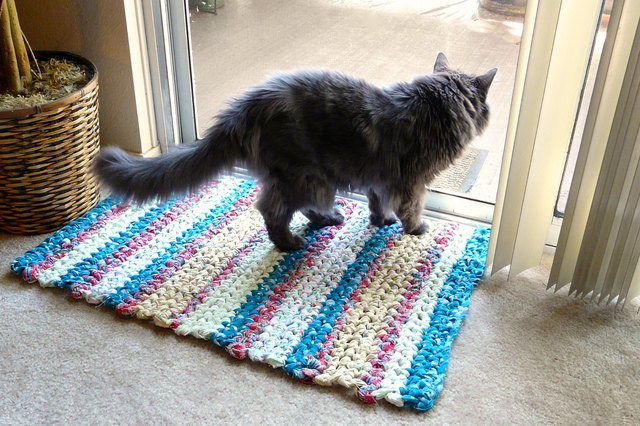 (Diane Gilleland)
Things You'll Need
Woven fabrics, 6 yards total, 44 inches wide

Ruler

Pencil

Scissors
Sewing machine

Thread

Crochet hook, size Q

Tapestry needle, size 13
Step 1
Please see the last slide for an itemized list of tools and materials. You can use as many or as few fabrics as you like to create an arrangement of stripes; just make sure you have a total of 6 yards.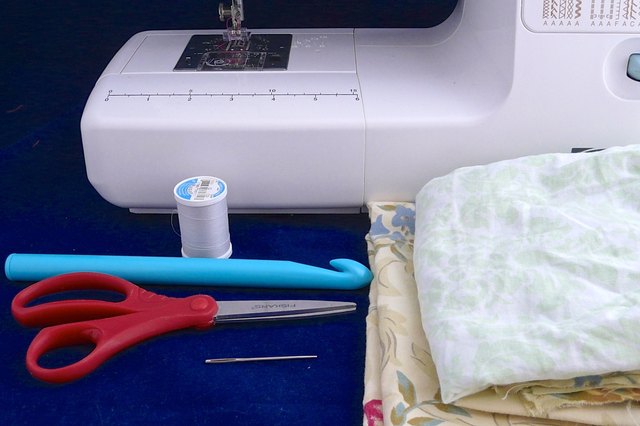 Diane Gilleland
Step 2
Measure along one edge of the fabric and mark it at 1 1/2-inch intervals with a pencil. Clip into the fabric with scissors at the marks and then tear it into long strips.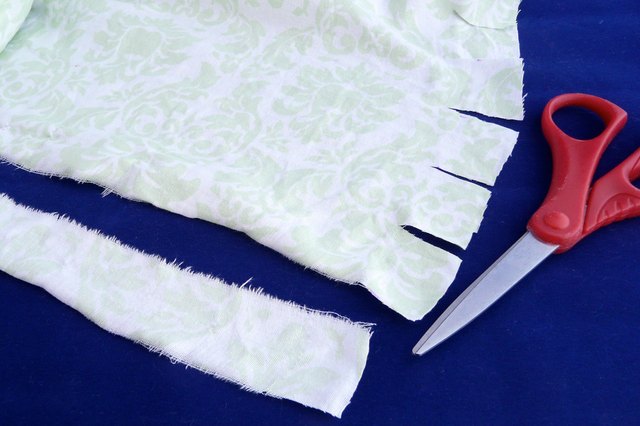 Diane Gilleland
Step 3
It's easiest to crochet with fabric strips if they're continuous, so you'll need to sew them together end to end. Place two ends at a 90 degree angle to each other with right sides facing. Sew across the tip of the fabric and then trim the seam allowance to about 1/4 inch.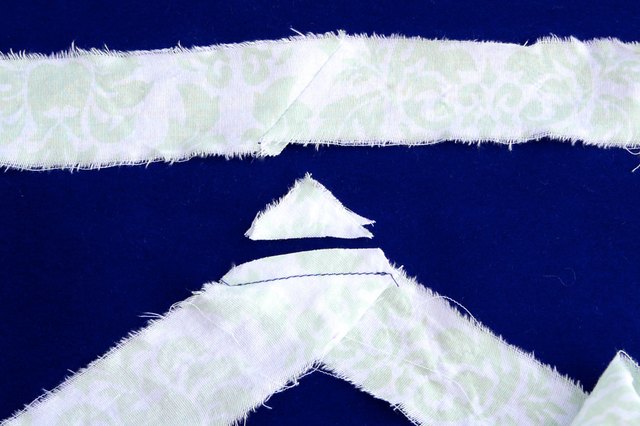 Diane Gilleland
Step 4
Add the rest of the strips in this manner, rolling the fabric into a ball as you work so it won't tangle. Make one or two balls of each color fabric. A rug this size requires 190 yards of fabric strips.
Note: You can simply tie the strips together end to end instead of sewing, but the knots can form lumps in the finished crochet. Sewing the strips together creates a nicer finish.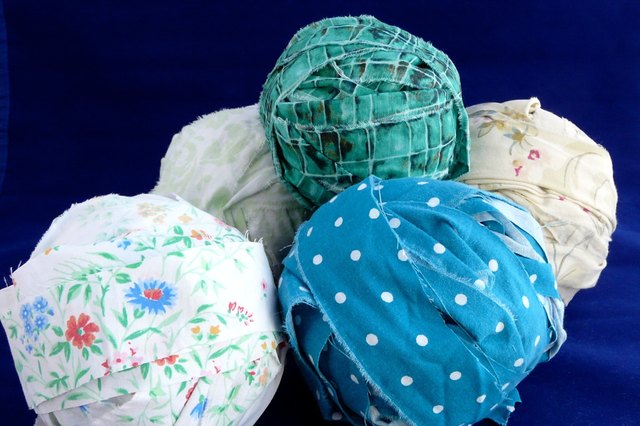 Diane Gilleland
Step 1
Attach the first fabric strip to the crochet hook with a slip knot. Chain 26, or the number of chains needed to reach the height you want for your rug.
Please see the References list at the end of this tutorial for links to all crochet techniques.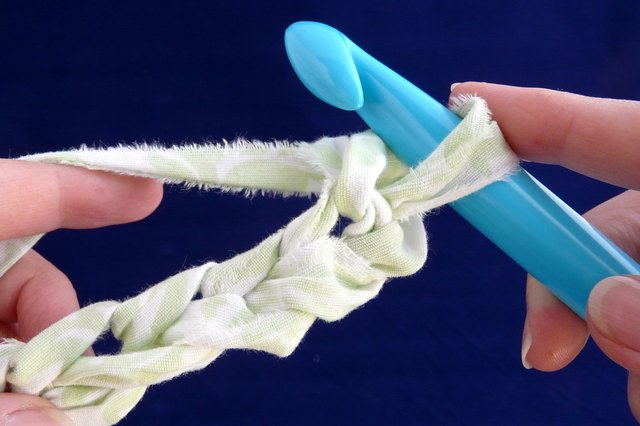 Diane Gilleland
Step 2
At the end of the base chain, chain 1, turn, and single crochet in each chain in the row. It's easiest to pass your hook through only one loop in each chain.
At the end of the row, chain 1 and turn.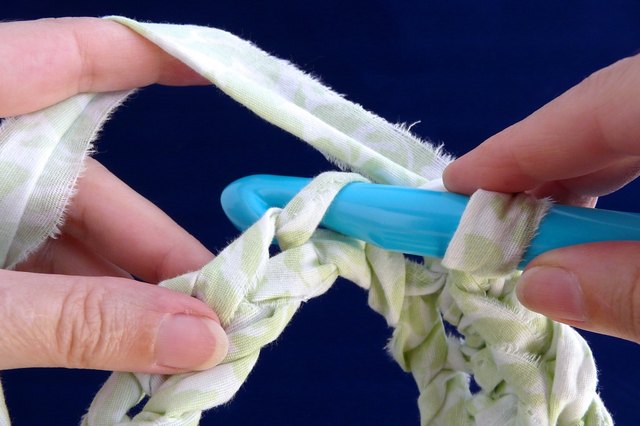 Diane Gilleland
Step 3
Single crochet in each stitch, passing your hook through both loops. At the end of the row, chain 1 and turn.
Repeat this process for 43 more rows, or until your rug is the length you prefer.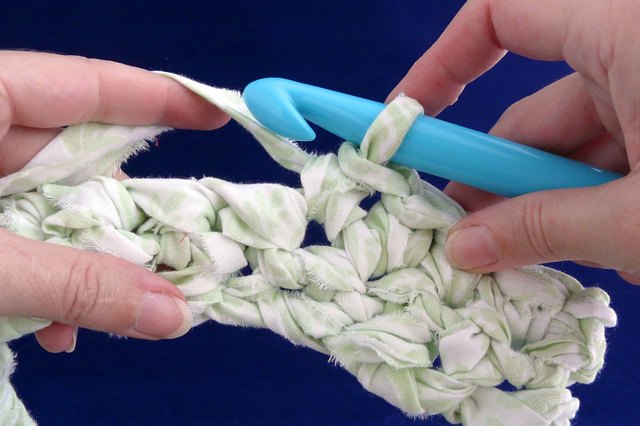 Diane Gilleland
Step 1
Change colors as often as you like to create vertical stripes.
Color changes happen at the end of a row. When you reach the end, stop in the middle of the last single crochet, with your hook having two loops on it.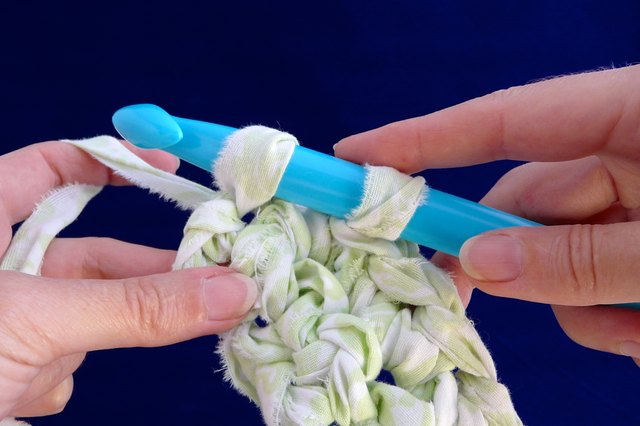 Diane Gilleland
Step 2
Wrap the new color over the hook, leaving about a 6-inch tail at the end. Pull the new color through both loops. Then chain 1 and turn.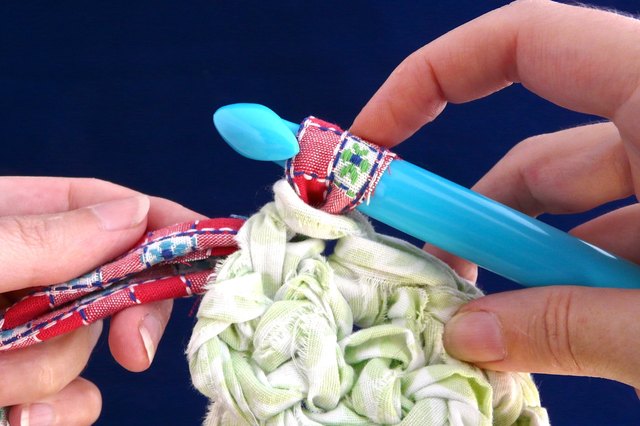 Diane Gilleland
Step 3
Proceed with single crochet in the new color. Cut the old color with a 6-inch tail.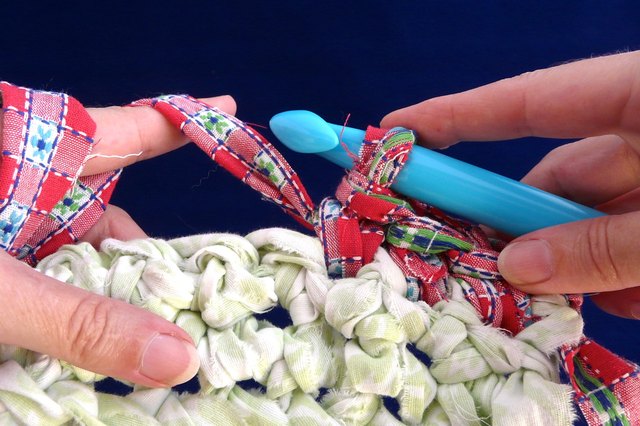 Diane Gilleland
Step 4
You'll have a tail of fabric at each point where you changed colors. These will be woven into the edges of the rug.
Fold the end of one fabric tail as needed to fit through the eye of a large needle. Pass the needle through several stitches, following the path of the original crochet. Pull the fabric tail snug so it's invisible against the crochet. Cut the excess away, and repeat this process with the remaining tails.
Rag rugs don't usually require blocking, but if your rug is a bit out of shape, spray it with water and spread it out neatly on a towel to dry.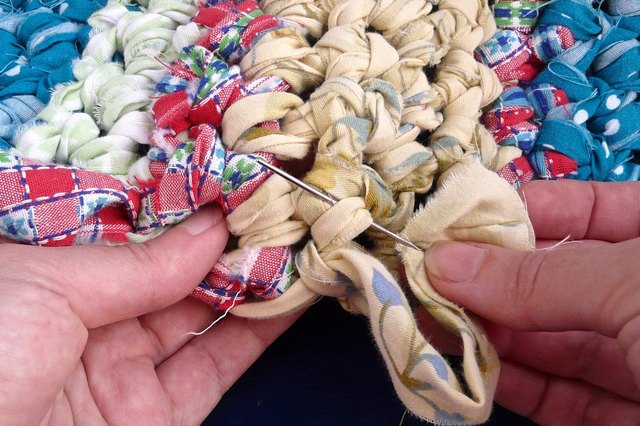 Diane Gilleland
Promoted By Zergnet