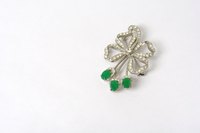 Jewelry making is a popular hobby and career field for many. You can create stunning pieces of jewelry to keep for yourself, give out as gifts to friends and family, or sell. Rhinestones are a diamond simulant, which means they have the appearance of a diamond but a different atomic structure and chemical composition. Rhinestones are a versatile and beautiful jewelry material you can use in a variety of jewelry designs including necklaces, earrings, rings, bracelets and watches.
Things You'll Need
Two-part epoxy
Rhinestones
Choose your jewelry. You can add rhinestones to pretty much any jewelry piece. That includes a pendant necklace, stud earrings, bezel cup ring, cuff bracelet or wristwatch as some of the best ideas. You can purchase these pieces as they are or, if you have the skills, you can make them from scratch.
Prepare the two-part epoxy. Specific instructions may vary from one brand to the next, but typically you simply mix equal parts of both glues together to create a strong and durable adhesive.
Apply a small amount of adhesive to the back of a rhinestone and the area on the jewelry where you want the rhinestone glued.
Wait a few seconds to allow the glue to become tacky.
Press the back of the rhinestone down on the glued area of jewelry and hold for about 30 seconds with your finger. This ensures the surfaces are properly bonded together.
Repeat this with as many rhinestones as desired. You may want to cover the entire piece of jewelry, or only a portion of it. You should allow at least 24 hours for the glue to dry completely.