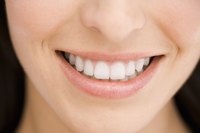 Whether your teeth are yellow naturally or from smoking, you may want to whiten your smile. Techniques for whitening teeth range from home remedies with limited results to professional treatments.
Stop smoking. Quitting won't whiten your teeth, but it will prevent further yellowing. If you continue to smoke, no whitening treatment will produce lasting effects.
Brush your teeth with baking soda, a natural whitener. You may see results in two to four weeks, but don't expect the degree of whitening you may receive from a commercial product. You can boost baking soda with hydrogen peroxide 2%. Some toothpastes also contain these ingredients.
Brush with a whitening toothpaste. This kind of toothpaste helps remove surface staining, but it does not contain bleach. Whitening toothpaste will lighten your teeth by one shade. Whitening toothpaste with ingredients that prevent stains from sticking to your teeth can be helpful as well.
Swish your teeth with a whitening rinse. This kind of rinse will wash away superficial stains, although hydrogen peroxide in the rinse may result in whitening in around 12 weeks. Since the user swishes the rinse for only 60 seconds twice per day, however, the rinse isn't in contact with teeth long enough to promote significant whitening.
Paint on a gel or apply a strip. Gels allow you to target whitening to areas of discoloration or to single teeth. Saliva can dilute the gel quickly, but paint-on whitener may be less irritating to sensitive teeth. Strips contain the same kind of peroxide-based gel and require two 30-minute applications twice per day. Both methods may show results in a few days, with whitening lasting up to four months.
Purchase either over-the-counter whitening trays or a tray provided by your dentist. With this treatment, you wear a tray filled with whitening solution for various periods of time, depending on the tray solution and the degree of whitening you desire. With daily use for at least a week, tray treatments can whiten teeth five or more shades. Although dentists custom-make their trays, over-the-counter trays have a generic fit and can cause leakage, which can irritate gums and teeth.
Visit your dentist for professional whitening. Dentists can apply stronger peroxide solutions and boost the effects with heat, light or lasers. Your dentist can also cast your mouth for a form-fitted whitening tray for home use. Any professional treatment is more expensive than over-the-counter products.