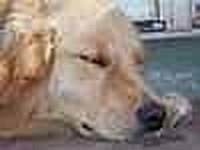 Dog and cat bite wounds are common and are frequently the cause of rough play or a fight with another animal. Dog and cat wound care involves keeping the wound absolutely clean so that the wound can heal without becoming infected.
Things You'll Need
Hair clipper or scissors
Iodine, such as Betadine
Clean soft cloth or gauze
Hydrogen peroxide or alcohol
Triple antibiotic ointment, such as Neosporin
Clip or cut the hair surrounding the bite wound on your dog or cat so that you can see and evaluate the wound more thoroughly. This will also assist in cleaning, caring for and treating the bite wound. A clipper is the best tool to use to do this as the clipper is less likely to further damage the skin for your dog or cat. If you use a pair of scissors, be very careful not to cut your dog or cat with them while you are cutting the hair. Try to clip the hair as close to the skin as possible.

Clean any dirt, hair, mud or any other foreign substance out of the bite wound on your dog or cat by using warm water mixed with an iodine solution and gauze or a clean cloth.

Once finished cleaning the bite wound, apply a small amount of triple antibiotic ointment to the injured skin for your dog or cat.

Clean the bite wound daily using the iodine solution diluted with water. You can also use hydrogen peroxide or alcohol to clean the wound instead. Alcohol will sting more than iodine or hydrogen peroxide and be more painful for your dog or cat. Hydrogen peroxide may bleach your dog or cat's hair. Iodine may discolor the hair also.

Continue to clean the wound daily until it has healed completely.