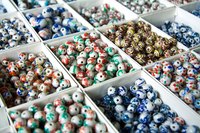 Given a strong demand for beaded jewelry and the growth of online marketplaces for arts and crafts, you can turn your beading hobby into a career without having to invest in a brick-and-mortar store. You can grow your inventory by purchasing bead mixes at a discount from wholesale dealers online. While you can survey the marketplace to see what type of beadwork is selling, customers will gravitate to your wares as long as you put your heart into your work.
Create an Inventory
As a startup business, stock a large selection of beads in your inventory. You can purchase bead assortments and mixes at a discount as well as beads on clearance or sale. By mixing less-expensive glass beads with gemstone beads in your jewelry, you can cut costs. Search for online shops -- wholesale and retail -- that offer beading supplies at wholesale prices. If you buy in bulk as a seller, you may need a resale certificate. You'll also need stringing supplies, such as wire, string, ribbon, satin cord, silk cord or leather cord. If you're on a tight budget, fishing line is a cheap and durable option.
Sell at Multiple Outlets
Before approaching outlets such as boutiques, determine your target market and assess your competition. You can show and sell your beads at trade fairs, street fairs, flea markets and festivals. In some locations, such as New York City, trade fairs tend to be competitive because there are many jewelry sellers in the handmade category. You may not even land a space at the fair. While selling your beads at markets, collect email addresses to build a customer base. Establishing an online presence to reach a global market is important. You can set up your own storefront at online marketplaces, such as Etsy, ArtFire or eBay, as well as develop your own website.
Price the Beads
When pricing your beadwork, first add up the total cost of materials, such as beads, string, clasps and packaging. Then, calculate a 25 to 40 percent markup and add a labor fee to determine profit margin, recommends Beading Daily. While you can't charge thousands of dollars for one necklace, aim to cover the costs of materials, time and overhead, which includes utilities, insurance and office supplies. Check the prices of your targeted sales outlet to gauge prices. The price you charge at a high-end boutique may not fly at a flea market.
Promote the Wares
To promote your beadwork, use online social media networks, such as Facebook, Twitter, Tumblr and Pinterest. In particular, Pinterest enables you to post attention-grabbing photos of your jewelry, which anyone online can pin as a favorite. Create a Facebook page and set up a Twitter account. Both vehicles enable you to post links and drive traffic to your online store. Telling stories about your beadwork via a blog two or three times a week can deepen customer engagement. In addition, advertise your wares in bead magazines, which reach specific markets and rural or hard-to-reach locales.