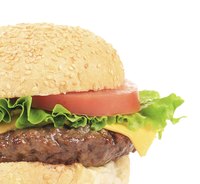 Sonic Drive-In Restaurant is a fast-food concept that employs carhops to deliver food to patrons. The original Top Hat Drive-In located in Shawnee, Oklahoma, became Sonic in 1959 and began franchising. As of 2014, the company had 3,126 stores in the United States; 2,730 of those were franchises. To start your own Sonic franchise, you must meet certain financial guidelines, visit the company headquarters, sign a franchise agreement and build and staff your store.
Prepare Financially
Like most franchises, you must make an initial investment and hold sufficient funds to cover expenses. The initial franchise fee is $45,000. Your liquid assets should range from $200,000 to $2 million, depending on the number of stores you want to open, and your net worth should be $500,000 to $2 million. Additionally, you must have funds to pay for the land where you plan to build. Sonic does not offer financing but does maintain a list of preferred financial providers should you need a referral.
Illustrate Competencies
You must demonstrate to Sonic that you can run a restaurant to its satisfaction. Sonic does not allow absentee ownership of its franchises, so plan to work the store personally. Additionally, you or your partner must bring previous restaurant or retail experience to the table and illustrate through your training or education that you can lead a crew, develop managers and build the business.
Review and Sign Agreement
Once you've been approved by the company, visited the main office and paid the fee, then you must sign the development agreement. Franchise agreements typically are non-negotiable. The agreement lists all the steps you must take and all the procedures you must follow in your Sonic location. The document outlines the obligations you and the company undertake and details forbidden activities, such as revealing trade secrets. Franchise agreements are regulated by the Federal Trade Commission. Franchise.com recommends finding an attorney who specializes in franchise agreements to go over the document before you sign.
Train and Prepare to Open
Once you've met the minimum requirements, you'll be invited to attend a Sonic discovery day at the main headquarters in Oklahoma City, where you undergo extensive training. Real estate teams are designated to help you find a location and set up building assistance. Sonic provides a list of approved contractors and assists you with the bid process and construction project management. The company guides you through the ordering process and ensures you get all the local licenses you need to open the doors. Once your building is complete, the corporate office can help with staff hiring and training, ongoing product training and other topics such as food safety. Sonic has a national ad campaign and works with franchisees to develop local marketing programs.