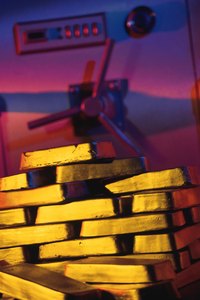 For all the benefits of owning gold and silver, one of the downsides has always been this dilemma: Where do you keep it? You'll need to store precious metals with the same level of security you would stash a pile of $100 bills. Owning gold and silver is supposed to be able to help you sleep at night, not keep you up worrying about its safety. You can have more peace of mind that your treasure is protected by taking a few steps to store it properly.
Open a bank account at a financial institution that has safe deposit boxes available. Usually, banks will require safe deposit box renters to also have a checking or savings account at the institution. You probably will have to pay an annual fee between $40 and $200 -- depending on size -- to rent the safe deposit box where you will store the gold and silver, but the box will greatly reduce the odds of your precious metals being stolen, lost or damaged.
Buy a home safe and have it installed. Keeping the gold in your home has the advantage of having it close at hand. You could chose either a safe bolted to the floor in your basement or bedroom or a sunken-floor safe in your closet or garage. The advantage of a sunken-floor safe is that it can be small and inconspicuously hidden below floor level, usually under the carpet. Even if someone found your safe, they might have a tough time opening it or chipping it out of the concrete it would be buried in.
Contact a bonded precious metals storage facility, such as Delaware Depository or HSBC in New York. For large quantities of gold and silver it makes sense to use a depository when it comes time to buy and sell gold and silver because the depository can handle the transaction without you taking physical delivery of your gold or silver coins or bars.