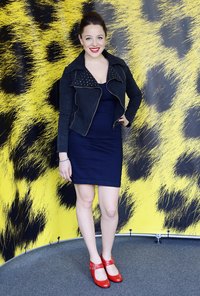 Matching colors and patterns is a safe way to create tasteful outfits, but it can get a little boring. Learn how to put clothing together in interesting ways without having everything match.
Think about mood. Instead of matching color for color, or pattern to pattern, think about clothing that's similar in mood. For example, if you want to wear a bohemian-style blouse, don't pair it with an uptight corporate skirt. It won't work, even if the two pieces have the same colors in them. A better choice would be a flowing, unstructured skirt that matches the spirit of the blouse.
Match the weight. If you're wearing wool pants, you'll want to pair it with a jacket of similar weight, such as tweed or corduroy, not cotton. Clothing of the same weight -- chunky with chunky, smooth with smooth -- is always a good bet.
Mix patterns. It's fine to mix patterns as long as they share the same colors. Done right, this is a sophisticated, interesting look in clothing. To get the idea, visit a quilting shop or a fabric store and ask for quilting squares. You'll see a variety of patterns, all in the same family of colors.
Know your neutrals. Neutrals go with everything, so be sure to have plenty of clothing in a variety of neutral colors. Traditional neutrals are solid black, brown, tan, cream, navy, gray and white. Choose neutrals for your core clothing pieces, such as jackets, slacks and skirts, and you'll always have something that goes with whatever else you're wearing.
Try some contrast. A easy way to start mixing things up is to simply pair one solid color with a contrasting solid color. Throw in a patterned accessory that shares one or both of the colors, and you're on your way to putting clothing together without matching.