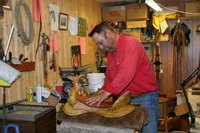 Western saddles are the common choice for riders in the United States. Developed by the cowboy in the early 1800's, Western saddles are made for all day comfort for the rider, durability, longevity, and security of seat. Western saddles can be quite costly, so learning how to create your own can save you a great deal of money. It must be noted that this is an art, and will not be learned in one lesson. Expect to make many mistakes before you can make a quality Western saddle that will make you proud. Here are some tips on how to assemble a Western saddle.
Things You'll Need
pre-fabricated saddle parts
heavy duty leather
leather tooling kit
canvas, felt, or wool
saddle glue
Begin with the saddle tree. This will be the fiberglass frame to which you will attach all the pieces of your saddle. Set it on a wooden saddle rack so you can easily access both sides of it for your work.
Attach the stirrup bars to the saddle tree. These are bolted into the tree below the head on the point of the tree--which is the very front part of the saddle. Make sure the moveable "thumb" piece is facing the rear end of the saddle tree.
Stretch your canvas tightly over the saddle tree from the pommel (front) to the cantel (rear) and secure with small saddle tacks. Attach a wool or felt lining over the canvas. Stretch your pigskin or suede very tightly over this layer and secure again with tacks and saddle glue.
Attach your skirt pieces to the saddle tree now that you have covered the seat. These pieces may be tooled and decorated before you attach them, or you may keep the design simple. Securing them will require heavy duty lacing of the leather as well as tacks and glue.
Finally, add your fenders and your stirrups to the stirrup bars and over the skirts of the saddle. Again, you may decorate them beforehand, or leave them plain, but make sure they are finished before you attach them.