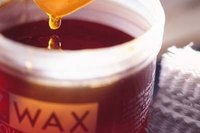 It can be tricky to remove hair from sensitive places on a woman's body like the bikini area and underarms. These areas are very sensitive to pain and hair removal can often be a painful procedure. Thus, it's best to use extreme care and caution when engaging in hair removal from these areas. Shaving, waxing and laser hair removal are three of the most time-honored methods of hair removal from sensitive places on a woman's body.
Things You'll Need
Shaving cream
Dull razor
Numbing cream
Beeswax
Honey
Strawberries
Egg whites
Food processor
Cotton strips
Apply numbing cream to the area at least 10 minutes before undergoing any hair removal procedure. You can purchase numbing cream from any pharmacy. Rub it deeply into the area of hair removal, and you will notice about a 50 percent decrease in the amount of pain you would normally feel when waxing or undergoing laser hair removal.
Shave the area with a slightly dull razor. The best way to shave a sensitive area is to do so in a bath where you can lay for a few minutes to make sure the skin and hair have softened. Always use a shaving cream specifically formulated for sensitive skin. Never use plain soap and water as it can lead to redness, razor bumps and irritation. Use a razor that has been slightly dulled through repeated use when removing hair from sensitive places. A brand new razor will be extremely sharp and will most likely lead to painful nicks and cuts.
Use an organic wax. You can make your own wax at home using natural ingredients that will be easier on your sensitive skin. You will need 2 tablespoons of beeswax, 4 tablespoons of honey, 10 strawberries (washed and chopped) and 2 egg whites. Melt the beeswax by placing it in a glass jar, then placing the jar in a hot water bath. Once the beeswax is melted, pour it along with the other ingredients into a food processor and blend well. To use, apply a small amount of the wax onto the hair, place a cotton strip down firmly against it and pull against the direction of hair growth. The strawberries in this recipe are a strong antiseptic that will prevent irritation and razor bumps.
Get laser hair removal. This is a great way to permanently remove hair from sensitive areas so that you will never have to worry about it again. You should make an appointment with a professional laser hair removal specialist who will be able to remove hair from sensitive areas efficiently and with minimal pain. Make sure to apply numbing cream as described in Step 1 before you undergo the procedure, especially if you have a low tolerance for pain.
Go to a professional hair waxing specialist. It's a good idea to have the hair from sensitive areas removed by a professional who is trained in hair removal techniques. A professional hair waxer can minimize the pain and irritation by removing the hair very quickly before you even have a chance to feel any discomfort.