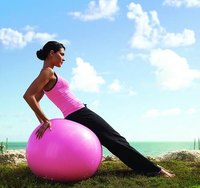 Most women are interested in losing weight after having a baby. And while many women are successful, those who have a cesarean, or C-section, may have a difficult time shedding the excess pounds. Cesarean sections involve surgery, and it can take up to 8 weeks for the incision to heal. As a result, some women don't begin to lose their pregnancy weight until 2 or 3 months after giving birth.
Speak with your doctor before exercising. Although you may be anxious to begin losing the pregnancy weight, wait until your incision heals to start a workout routine. Exercising beforehand can weaken the stitch line. Talk to your doctor before engaging in any type of physical activity.
Take a brisk walk. Wait 3 months before beginning a vigorous workout after a C-section. In the meantime, build your stamina and take a brisk power walk. Walk for 30 minutes or longer at least three times a week. This will help you burn calories and fat, and lose the pregnancy weight.
Reduce your calorie intake. While pregnant, many women become accustomed to "eating for two." If you're trying to lose weight after a cesarean section, eat 500 fewer calories a day. Limit your carb and sugar intake, and stay away from fast and fried foods.
Breastfeed your baby. If you're unable to engage in physical activity due to pain from a C-section, consider breastfeeding your baby. Breastfeeding burns about 500 calories a day, and it'll help you shed the pregnancy pounds.
Exercise your abdominal muscles. Once your incision heals, participate in workouts that target your mid-section. Crunches, abdominal workouts and pilates can burn calories and sculpt your stomach.