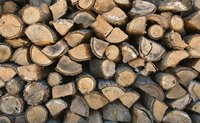 For the avid outdoorsman who likes a good bit of hard, manual labor, starting a garage business in chopping and selling firewood is a solid option. If played smartly and executed on a small scale, a firewood business can be operated cheaply and on the weekends and earn a tidy income on the side.
Things You'll Need
Splitting maul
Two splitting wedges
Sledgehammer
Wood ax
Hatchet
Tree saw
Heavy chain saw
Gas can
Chain saw sharpening tool
Iron file
Vehicle or trailer suitable for hauling wood and tools
Safety goggles
Collect or purchase the basic hand tools for woodcutting: a splitting maul, at least two splitting wedges, a sledgehammer, a wood ax, a hatchet, a tree saw, a timber chainsaw, a gas can, a chain saw sharpening tool and a regular file for sharpening axes.
Decide whether you are operating on a scale that will require a log-splitting machine. Even the cheapest log splitter costs $350, but it might be necessary if you intend to spend all weekend either cutting or delivering wood.
Purchase a jeep, pickup truck or light trailer if you do not already have one. You need a vehicle for both collecting and delivering wood.
Look for free sources of wood. People often advertise fallen trees, sometimes already cut into rounds, that they want taken away at no charge in the classifieds and on Craigslist.org. Fallen trees in your community may also prove to be a good source for collecting wood.
Using your tools, cut the fallen trees into fireplace-sized rounds and split them into logs. Stack them up in a sheltered, dry location, such as a garage, shed or shack, and let them season for at least six months.

Advertise your business, starting in your own neighborhood with fliers at hardware stores and coffee shops.
Plan on spending most of your time from late autumn to late winter delivering wood, not splitting it.