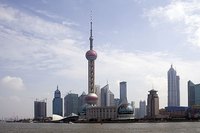 With the once-thought-to-be solid real estate market in the US in heavy decline, investors are looking for other markets to get into. With China's economy growing at an average of 9.7% since 1979, it is the attractive outpost for foreign investment. Investing in the Chinese real estate market, although not a simple matter, is possible.
Things You'll Need
Capital and Financing
Guts
You must work or study in China for the minimum of one year. This law does not apply to Overseas Chinese, Hong Kong, Taiwan and Macau residents, who are automatically eligible.
Determine the city in which you want to invest. Although popular cities such as Beijing, Shenzhen, Shanghai may be your first thought, other second tier cities like Xiamen, Qingdao, and Hangzhou may actually provide better value and growth. With the government investing heavily into infrastructure, tracking recent railroad building activities may be an indicator of future growth (examples: Hunan and Xinjiang).
Find a real estate agent and lawyer familiar with conducting business in China in the market of interest. You will need both to cut through the legal haze and contracts, which will all be clearly written in Mandarin Chinese.
Find the property with help from your real estate agent and a few visits to China. For new developments, it is important to research the particular developer and request references. Some properties that are only ten years old on the mainland may look like and function like they have aged fifty years. Also, foreigners are not allowed to live within 0.5 km near government sensitive sites and government official homes -- you may run into this in Beijing especially.
Submit your offer via your real estate agent.
Prepare your financing. If you are financing through a Chinese bank, then check their particular requirements on income, down payment, and loan amount. If you are exchanging your foreign currency, an individual can exchange up to $50,000 USD annually. More than that requires government approval.
Complete the transaction. Complete forms and submit them to the Realty Transaction Department, which can take up to a month. Pay the closing price and sign all the papers. Consult your lawyer to ensure that there is nothing in the contract to be wary of. Buyers are required to pay 3% stamp tax, 2% maintenance tax, and 1.5% contract tax, otherwise the transaction will not go through.