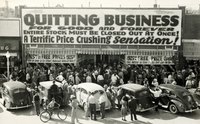 You've decided to close your business, but you can't just shut your doors. You must take several steps first to make sure you are free from any legal or financial obligations associated with your business. Closing a business is never an easy task, and it can be tempting to rush through the process, but by taking the right steps to shut down your business, you'll protect yourself financially as you move on to your next entrepreneurial effort.
Notification
Once you've decided to close your business, you must notify your employees. The Worker Adjustment and Retraining Notification Act requires all businesses with 100 employees or more to notify these workers the business is closing at least 60 calendar days before it shuts its doors.
Dissolution Papers
File dissolution papers, which officially announce your business' closing, with the states in which you are registered to do business. Each state's dissolution requirements are different, but businesses that are limited liability corporations or corporations must file these papers. Sole proprietorship businesses do not have to file such paperwork.
Paying Creditors
Pay your creditors and vendors the money you owe them before you close your business. Of course, you might be closing your business because of financial difficulties. If that is the case, you might consider filing for bankruptcy protection instead of paying your debts.
Canceling Permits
Cancel all permits, licenses and registrations that you took out in your business' name. Doing so will mean that you don't have to pay fees for any licenses or permits you no longer need.
Paying Employees
Pay your employees their final paychecks before you close your business or by a specified date.
Filing Tax Returns
File an income tax return with the Internal Revenue Service for the year in which you close your business. The IRS recommends that you attach a note to your tax return that lists the name of the person keeping your business' payroll records and the address at which those records will be kept. Click the box on your return stating the tax return is a final return.