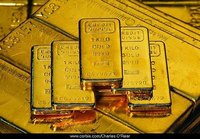 The first question is "Why should I buy gold and / or silver in the first place?" Our government is initiating economic policies that will set a foundation for rising prices and wages by devaluing the dollar. During wholesale currency devaluations, institutions and individuals rush to put their savings into anything that will preserve or increase in value in these types of economic times. The best way to describe this concept can be found in this example. In 1933 the price of 1 ounce of gold was $35.00. For $35.00 you could purchase a tailored suit, shoes, a belt and a tie. Today that same 1 ounce of gold now worth $950.00 can purchase a tailored suit, shoes, a belt and a tie. Had you held onto the $35.00 from 1933, you could barely purchase the tie as a result of gradual currency devaluations over the years. The pace of currency devaluation is about to accelerate significantly.
Things You'll Need
First it is necessary to have some understanding of the gold and silver markets. The "spot price" of these commodities are set by reason of buyers and sellers in the commodity exchanges around the world. It is unlikely you will be purchasing from these markets directly, instead I will outline several of the options available to you. I would recommend that you seek out 4 different sources for gold and silver; 2 local coin dealers / pawn shops and two online sources, Ebay.com and apmex.com (American Precious Metals EXchange).

It is important to decide which products you want to focus on so you become familiar with the market for those items over time. I do not advise you to make one large purchase, rather make smaller calculated purchases to buy on dips in the market place. When I am asked to recommend what to buy, I usually recommend 1 oz gold coins either American Eagles, Canadian Maples leafs or Kruggerands from South Africa. In the silver market, 1 ounce American eagles or Canadian Maple Leafs are the most reputable and tradeable.
The first important step is to understand the "spot price" of gold or silver. If you are buying from a dealer or the U.S. mint your purchase price will be higher than the "spot price" Here is why you need to do some homework before you buy. It is best to purchase, or lock in a price for your purchase after the N.Y. Comex market closes (2pm EST M-F) or all day Saturday and Sunday. You and the seller must be able to agree on what the spot price is in order to determine the selling price. The selling price can range from 8-15% over the spot price. If the closing price on "spot" gold per ounce is $1000.00 you may find the sell price varies between dealers from $1080.00 per ounce to $1,150.00 per ounce. Dealers who know me from repeat business are likely to give me a better deal than ones I do not know, so it can be to your advantage to get to know the people you are dealing with, unless of course your are dealing online with ebay or APMEX.
Purchasing over $1000.00 of precious metals exempts you from paying sales tax! This is very important as sales tax can add up to 9% to the purchase price. Now you are ready to make a purchase!
1) After the "spot" market has closed go online to APMEX and find the desired coin or bullion you want to purchase and its current price. Be sure to check for any volume discounts that may be available. APMEX always offers price breaks. Write down the prices as listed along with the product you are interested in, check for any shipping costs and add that to the per ounce price.
2) Call your local dealers and ask for quotes on the items you have gathered information for. Do not be afraid to tell them what you can get it for online as they will identify you as a customer that does their homework. You will gain their respect and they will less likely try to gouge you. The local dealer will then quote you a price that will be based upon their inventory of what is in stock or whether they will have to order it for you. Keep in mind, that a local dealer buys a portion of their inventory from their walk in customers at a price well below the spot price and sells to you at well above the spot price. If the local dealer has to go to the mint or a regional market to buy your order, they will pay a higher price nearer to spot price and as a result the price to you will be less flexible. When a dealer purchases from walk in customers and resells to you, you can get a better price. Why? A coin shop dealer will buy gold or silver from their customers at a price 10-20% below the spot price and sell to you at 8-15% above the spot price. One dealer I got to know well, would call me after making an over the counter purchase to let me know his usual premium would be lower. On other occasions I would call him with an order and he would lock in my purchase price and I would wait until he accumulated the inventory for my order from walk in purchases. Sometimes this might take up to 2 weeks, but for me and the dealer it worked well because he had a definite sale and I had a fixed purchase price.
3) When buying from APMEX.com you will have to open an account with them. Their terms are simple. When you purchase online, the price you lock in at the time of purchase is good for 10 days. You have 10 days to get them a money order or check. If it is a money order, they will ship you your product a day or so after they receive it. If you send a personal check, it could take up to 15 days for the shipment to leave or until your check clears the bank.
Depending on the general market for gold and silver buying online versus from a local dealer can be better or worse. That is why it is a good idea to have both types of sources