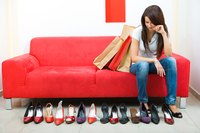 Many women complain of having large, unladylike feet and search constantly for ways to make their feet look smaller and more feminine. Wearing shoes that don't fit well can cause blisters, bunions and pain. It can even have long-term health effects. Don't cram your feet into too-small shoes. Instead, shop smart and choose shoes that show off your feet to best effect.
Try some heels. High heels will appear to break up the length of your foot. Chunky heels tend to make a foot appear smaller than thin stiletto heels do.
Look for rounded toes, not pointed ones. The tip of a pointed shoe goes beyond the toes, creating unnecessary length. Rounded toes give your foot wiggle room without adding extra length.
Buy shoes in dark colors. Black and navy shoes are more slimming than white or pastel. Dark or deep shades will help to make the feet appear narrower and shorter.
Look for shoes with cut-out uppers or vamps that dip toward the toes. Shoes with high vamps tend to make your foot look chunky.
Try sling-backs and peep-toe pumps rather than thin-strap sandals. Flashing a bit of skin is flirty, but showing lots of flesh can make your foot look oversized.
Avoid ankle straps if you feel your feet are wide. Go for a long, lean line along the top of your foot instead.