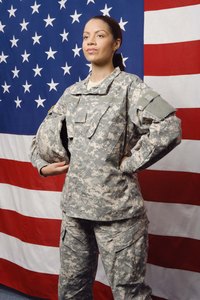 Active or retired members of the U.S. armed forces have access to many benefits not available to ordinary citizens, including some that apply to travel. Whether traveling for business or pleasure, there are some options for obtaining military discounts on both domestic and international airline fares. There are restrictions and regulations that must be understood and adhered to, but the benefits can be substantial for those who qualify.
Check with commercial airlines to ascertain the availability and pricing for military discounts. Call each airline directly to obtain rates and availability information. Discounts are taken from full-fare prices, which often are higher than discounts fares available to any passenger. Make sure the military discount is better than other reduced fares.
Enroll in the Government Vacation Rewards program, a travel benefits program for members of the military. Military Star Card holders receive free access to discounts on airfare, as well other travel expenses such as hotels, cruises and resorts. The military member's family also is eligible for the discounted fares, with no booking fees and a best-price guarantee. Check eligibility, availability and prices through the Government Vacation Rewards website (govvacationrewards.com) or through the website of the branch of the military to which you belong.
When traveling on official government business as a member of the armed forces, check eligibility to purchase heavily discounted fares through the U.S. General Services Adminstration, via the City Pair Program (CPP). Obtain information from the GSA wesbite (gsa.gov) or from your military adviser. These fares are not available for personal travel or for family members.
Inquire about the availability of Space Available flights, often referred to as Space A flights or "military hops." Determine eligibility and register for the program ahead of time. Make sure you understand all rules and restrictions. Have a flexible schedule, as seats on these flights are accessible to you if there happens to be an open spot. If the flight is full, you must wait for the next one.