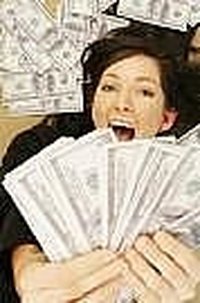 If you currently consign clothing or other items with a local consignment shop, or you are interested in consignment, check out my few tips on how to earn the most money from your consigned stuff!
Things You'll Need
Gently-used clothing laundered or dry cleaned/pressed
Shoes/Accessories/Jewelry
Original receipts or paperwork for expensive items
A lot of people try consigning their gently used items for extra cash! Consignment is a great way to not only get back some money for your stuff, but it also helps by recycling and helping people less fortunate than others by provided them a more inexpensive, but just as nice, wardrobe, accessories, furniture, or other things!

There's lots of different factors to earning the most in consignment. All consignment stores are different, and generally, all individually run. Consignment is NOT the same as resale, like Plato's Closet, they pay you a percentage up front. In most consignment settings you have to wait until the end of the consignment period to be paid for the things that sold and it is split between the consignment store and the consignor.
The easiest way to make the most money in consignment is QUALITY. Consign your items that are in the best shape and probably cost more than some other items. Keep an eye on your labels and only bring in the best labels you can find. Don't consign stuff from Kmart or Walmart, unless its brand new and tagged. These stores already sell items for cheap, so the resale and quality of the piece usually is not as profitable. Items for consignment should look new, very gently worn, and have resellability to them. Many people purchase new items, change their minds or end up not liking something about the items and have gone beyond the period of returning the merchandise. Leave on the price tags/stickers to show that you are consigning a brand new item. Newly tagged items get scooped up quick in consignment!

Always present clothing that you would hang in your closet on a hanger, most shops will exchange for their own hangers. Casual everyday clothing should be presented folded up nicely in a storage tote, laundry basket, or handled shopping bag. Always wash, dry-clean, and press your items. This makes the items smell clean and fresh, look their best, and will bring in more profit for you, the consignor!

Don't confuse items that should be donated or tossed away as good consignment clothing. Well-run consignment stores won't even look at these types of items. Remember if YOU wouldn't pay even 50 cents for it at a rummage, why would someone else pay a few dollars for it?

If possible, provide the shop with original receipts and original packaging for more expensive items. Especially when dealing with designer purses(Coach, Louis Vuitton, Kate Spade, Gucci,etc.), formalwear, easter clothing for kids, designer expensive shoes, watches, jewelry, these items all sell for the most when the consignment shop knows the original purchase price and can display it in the original packaging.

Don't EXPECT to make a fortune! Usually in consignment you should expect that you will make more money on each item than you would selling it at a rummage, but not more than half of what you paid for it originally. Some people think they will make hundred of dollars, some people do, but if you don't spend a lot on your items originally, factor that in. Also check with your local shop to see when they take what items (seasonally, or otherwise), how many items you can bring in at a time, what the consignment split is, and if you can pick up what didn't sell or if it would be donated to charity through the shop. These tips will always pay off in the end! Bring in your GOOD stuff, not the crap! Because all consignment stores vary on what they offer call around and do research on who will pay you the most and think about how the items you are done with will fit in with the shop.