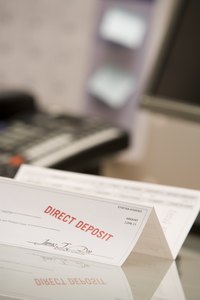 The Internal Revenue Service (IRS) issues penalties to those who miss their payroll tax deposits on Form 941. These penalties revolve around late payment of taxes, underpayment of taxes or late filing of taxes. They can range from 2 percent of your owed taxes to 25 percent, depending on the lateness of repayment. Despite these penalties' severity, there are ways you can lower the penalty or penalties the IRS is charging you.
Things You'll Need
Phone number for the IRS
IRS papers concerning your business
Your business tax ID number
Determine who is at fault for incurring the tax penalties. Even if you run a business, you may have hired an accountant who is responsible for all tax payments. The IRS only penalizes the person who was responsible for failing to pay taxes correctly, not every person involved in a business. In that case, you would have to call the IRS and report who was responsible for misfiling the taxes, and then send the documentation to back up your claim.
Call the IRS and ask for a reduction of your payroll tax penalty, if you were responsible for payroll taxes. Your IRS penalty notice will more than likely contain a phone number for you to call. Remember, if you have an otherwise clean financial record with the IRS, use that as leverage for your plea.
Use a plea of reasonable cause as further leverage when you reach an IRS agent. Explain to the agent why you misfiled your payroll taxes, whether it had to do with an internal business problem or an external, life-related problem such as a personal tragedy. You may even have simply forgotten to make a deposit, and that will usually pass the IRS's approval because the IRS only severely penalizes intentional noncompliance.
Research obtaining an IRS Offer in Compromise if directly contacting the IRS doesn't yield any reduction in your tax penalty. An Offer in Compromise allows you to reduce your tax liability if your business finances are poor. The IRS is willing to accept this compromise because it generally doesn't like to waste time with people who are not financially solvent and simply can't hand over any money.
Consult a tax attorney or certified public accountant (CPA), and ask him or her about your eligibility for an Offer in Compromise. Your attorney or CPA will have you give him or her copious financial records, including accounting paperwork on your business's income, cash flow and debt. The attorney or CPA will then contact the IRS and quickly supply all the information needed for determining an Offer in Compromise.