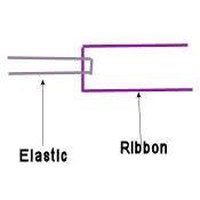 Elastic headbands are an attractive headband option for people who can't wear typical headbands due to sensitive nerves behind their ears. With an elastic headband, the elastic gently conforms to the head without the painful pinching that is common with other headbands.
You can easily make your own elastic headbands with colorful grosgrain ribbon, elastic, and a needle and thread. In only a few minutes, you can have a great-looking headband to match every outfit! Accessorize your outfits and keep your hair neatly back from your face with a pretty elastic headband.
Things You'll Need
Tape measure
Scissors
Fray Check
Grosgrain ribbon (1 1/2-inch width)
Elastic (1/2-inch width)
Needle and matching thread
Measure around your head where you will be wearing the headband.
Cut a length of ribbon that is 4 inches shorter than the measurement taken in Step 1. Cut a 2-inch length of elastic.
Apply a small line of Fray Check to the raw edges of the ribbon to prevent fraying. Allow the Fray Check to dry.
Hand stitch the end of the elastic to the end of the ribbon, overlapping the edges by 1/2 inch.

Check the fit of the headband around your head to make sure it will be snug. Trim the ribbon and elastic if necessary to make the headband fit snugly.
Repeat Step 4 to finish the headband.